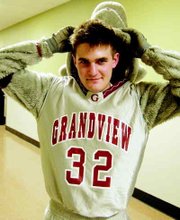 YAKIMA - The face behind the mask in Grandview High School sports is senior Matt Massey, who wore the Gunnar the Greyhound costume during the 2005-06 football and basketball seasons.
Since there was no one playing the mascot's part last basketball season, Massey offered to put on the costume for the 2A State tourney last year. "I was nervous, that was a pretty big stage to get started on," he said.
Grandview's boys went on to take third at State that year, and Massey had found his niche.
"I used to be a shy person but this experience has really helped me," he said.
Before wearing Gunnar's costume, Massey played on the Grandview boys basketball C squad.
"It's pretty cool, I'm part of the crowd and I'm also part of the team," he said of his year in the mascot role.
What about future Gunnars? What would his advice be to them.
"No one can see you, so be crazy, try to go all out!" he said.
Massey said the toughest part of the job is dealing with a quiet gym.
"It's hard to get a cold crowd going, especially the students," he noted. Massey praised the increased school spirit he's seen this year, especially the face-painted crowds during the Grandview boys basketball run to a perfect league record in the CWAC South.
"That was good for me to see the students responding to the team," Massey said.
Another highlight he pointed to was Grandview's first-ever State football playoff win.
The key to getting a crowd going, Massey said, is a combination of humor and finding receptive fans.
"At the beginning of each game I try to find a few people who want to have fun," he said. "I also mimic the refs, that always seems to make people laugh."
Some of his toughest customers are the youngest ones.
"There are the little kids who want to pull on Gunnar's tail," he said with a smile. "But I just laugh it off as part of the game."
Young children sometimes are scared of the Gunnar costume, he adds. "I give them a hug and a high five. They start smiling," Massey said.
Working like a dog, in a hot costume in a stuffy school gym is one of the hazards of the job.
"I'm like the players, I warm up and drink a lot of water," Massey said.
Even with the warm costume, Massey's enjoying the mascot game so much he's thinking of taking it to another level.
"I want to try out for the WSU Cougar mascot," said Massey, who plans to attend the Pullman school this fall.
But wait, he'll be going from a dog to a cat? Can he handle the canine-to-feline switch?
"That's okay," he laughed. "The team colors will be the same."