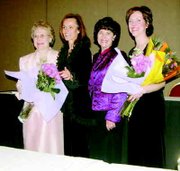 Colette Hokanson knows something about motherhood. The 1989 Sunnyside High School graduate, who now lives in Medford, Ore., has five children ranging in age from two to 15.
She said she's been a stay-at-home mom since graduating from Brigham Young University in 1993 with a degree in elementary education.
Hokanson has worked tirelessly to help mothers and to promote family values and faith. For all those reasons, she was named the Oregon Association of American Mothers' Young Mother of the Year on March 3 in Portland, Ore.
"I was completely surprised," said Hokanson of receiving the award.
In order to receive the award, she had to be nominated, and once nominated had to compile a portfolio describing her experiences in motherhood and what she's done in the community.
Her portfolio was 18 pages long, and she said it was the biggest project she'd completed since graduating from college.
She said in addition to submitting her portfolio, she's been active in Medford. She started a chapter of the Assocation of American Mothers since moving to the city. She said the group, which consists of 50 to 60 people, meets regularly at her home.
Hokanson said she's also worked hard to protect children from Internet pornography, arranging workshops and meetings on how to protect children and families because it is so easily accessible.
"I'm very, very concerned about it," she said of Internet porn.
The association's state board looked at her portfolio and body of work and judged her to be the best young mother.
As a result of her winning the award, Hokanson will now attend the Association of American Mothers' national convention in Bismark, N.D. April 25 to 30. While there she'll compete with winners of the award from other states in an attempt to become the national Young Mother of the Year.
She'll submit her portfolio again, and also give an impromptu three-minute talk about what it means to be a mother.
"It is very humbling," Hokanson said of the award. "In my mind I'm just an ordinary mom with a fridge that needs cleaning."
Hokanson said despite winning the award she doesn't feel like she's above other mothers. In fact, she mentioned she knows that she's not perfect.
"We are all imperfect," she said. "And we're all in this together."