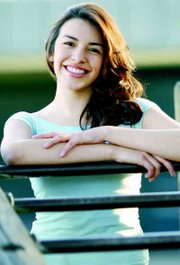 Veronica Romero has several reasons she wants to be the next Sunnyside Miss Cinco de Mayo.
The 17-year-old Sunnyside High School junior, who has lived here all her life, said two of the reasons she wants to win the pageant are to represent the Hispanic community and create more opportunities for Hispanic people.
Romero is one of six young ladies hoping to capture the title on Friday, April 28, at Sunnyside High School.
But before she can claim the crown, she'll have to go through the usual pageant events, including the talent competition.
Romero said she's kind of nervous about performing her talent in the pageant, which will be a mix of ballet and hip-hop dancing.
"It kind of scares me a little, because a lot of the talents I've seen before have had Hispanic culture in them," said Romero, who added she has been dancing for 10 years.
Another thing that may be difficult for Romero as the pageant date approaches is that two of her fellow competitors are her good friends.
She said she and her friends have known for several years that they wanted to compete in the pageant.
"We were like, we want to do that," Romero said.
In high school, Romero said she's been involved in a number of activities, including cheerleading, Key Club and Pep Club.
Romero said once she graduates from high school she wants to attend Eastern Oregon University in La Grande, Ore., majoring in education and minoring in Spanish. She said she wants to become a bilingual teacher.
"Sometimes I'm curious about other careers," Romero said, but added she has always wanted to be a teacher.
If she wins the Miss Cinco de Mayo crown, Romero said she will work with the Sunnyside Parks and Recreation Department to create activities for kids to participate in throughout the year. She also said she'd work to make those activities affordable for all kids.
Romero also said she'd work to get more recognition for the Cinco de Mayo Court and committee because both groups do so much work throughout the year.
But until the pageant, Romero said she's going to continue practicing the skills she'll need to be successful in the pageant, including her stage presence, talent and public speaking.