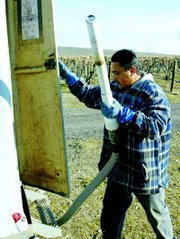 Just like people need to eat, people need to go to the bathroom, so six days a week at the first break of light Sandro Sanchez climbs into his truck and starts his rounds for the day.
Sanchez works for Cliff's Septic Service in Sunnyside and his job is maintaining the portable toilets that are rented from Cliff's.
Sanchez services the toilets Cliff's rents out and also services toilets owned by the customers. Each rental gets cleaned once a week unless the renter asks to have the toilets cleaned more. This costs a little extra.
"We have three sizes of toilets," Sanchez said. "We have single toilets, double and one toilet we call the 'Big Unit.' The single toilets are self explanatory and the double toilets have one toilet for men and one for women. The big unit is a monster with six toilets, three on each side, that come complete with heater, air-conditioning, a radio, sink, mirrors and lights. The big unit is usually used for large gatherings or parties.
They also have toilets suitable for people who are handicapped.
Sanchez has been working for Cliff's for 4 1/2 years. He started out delivering the toilets but has been maintaining and servicing them for nearly three years.
He starts out in the morning by filling his water tank with fresh water. After grabbing a load of toilet paper, some paper towels and hand soap for the toilets with sinks, he heads out on his route. These routes take Sanchez to anywhere in five counties. Cliff's has portable toilets in Benton, Franklin, Klickitat, Walla Walla and Yakima counties.
Sanchez likes his job. "You see a lot of different things," he says. "Driving around I get to see nice views, animals like deer and elk and I meet nice people. I like it. It's fun."
Most of it is anyway, there is always the cleaning part.
"You get used to it," he said. "You have to do what you have to do."
Sanchez likes the freedom his job offers him. He's basically his own boss.
"You know what you have to do and you just do it," he explained. "It's just me out here."
Because his routes change daily and he does a lot of driving, his days go by pretty quickly. "It's peaceful driving around in the open country," he said.
He even gets to have a little banter with cars that pass him. "Sometimes people drive by and will look at me and plug their noses," he recalled in a good natured way. "I think they like to have fun."
When Sanchez arrives at a portable toilet, the first thing he does is use a hose to suck out the waste. Once this is done he sprays down the walls and cleans the inside of the unit. After replacing toilet paper, hand soap and towels, he marks on a sheet that the toilet has been cleaned and moves on to the next one.
A toilet usually takes about five minutes to clean but if it's really bad, it could take up to eight minutes. The most time consuming part of his job, he says, is when he has to search for the toilets.
"Sometimes when workers are done with an area they move the toilets but don't tell me about it," he said. "Sometimes I have to drive around for a while before I can find them and sometimes I can't find them."
Because lots of people besides farmers rent the toilets, Sanchez stays busy all year round. His busiest times of the year are during the summer. He can expect anywhere between 20 and 30 hours of overtime a week during these times. "It really picks up at the start of asparagus season," he said.
The harvest season brings in some heavy work weeks also. "During harvest I try to get as much sleep as possible because I'm either up at 3 a.m. or 4 a.m. to start the day."
Long hours but good money.