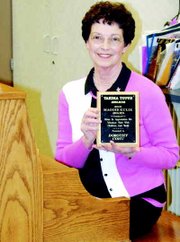 Dorothy Cohu has been playing the piano longer than a lot of people have been alive - and she loves it.
The 70-year-old Grandview resident has been playing the piano for 65 years, she said.
"I feel a lot younger in a lot of ways," Cohu said.
For the past nine years she's been sharing that talent with the Sunnyside School District. She's played accompaniment for choirs, solo singers and drama productions, all the while not expecting anything in return.
Devoting so much of her time to help enrich children's lives with music is one of the reasons she was awarded the Yakima Youth Awards Committee's Maggie Kulik Award this past Monday.
According to the organization, the award is given to recognize the efforts of people over the age of 65 who make efforts to help children in Yakima County.
In order to win the award, Cohu had to be nominated. Bonny Buckley, orchestra teacher at Chief Kamiakin Elementary School, Harrison Middle School and Sunnyside High School spearheaded the nomination effort.
"Mrs. Cohu is one of those rare, giving and loving individuals that helps make education a worthy occupation in reminding us that what we earn comes from the heart," Buckley wrote in her nomination.
After Buckley's initial e-mail, other staff members in the district followed suit, adding their comments to Cohu's nomination.
Maisy Sylling, high school drama teacher, wrote: "we love and appreciate Dorothy for much more than her piano skills. Dorothy cherishes the students and goes out of her way to bring snacks, put up encouraging signs, and even give gifts to the graduating seniors and other cast members."
Though Cohu said the school district pays her a small monthly salary for her services, she said she'd do the work for nothing.
"I enjoy working with the kids," Cohu said.
Cohu said because she's the same age as many of the children's grandparents, many of them can relate to her on that level.
She also said she likes to remind them that they are loved no matter what.
"I like to tell them that God loves them," she said, "because so many people don't know that."
Even though Cohu usually provides an essential piece of a performance, she said she often reminds people that she's just the accompanist.
"You're an accompanist, because you follow what everyone is doing," she said.
Not only does she accompany performances, she also helps people practice.
"She is always willing to take the time to help students with their singing or instrumental music," said Outlook music teacher Charlene Sleater in her nomination.
Does Cohu see herself quitting her volunteer work anytime soon? Don't count on it.
"Any school that asks me (to come play), I'm willing to do it," she said.