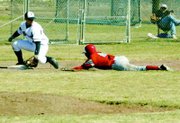 One has to wonder what the future holds for sophomore Gibby Briones, following his spectacular performance Saturday in leading the Sunnyside High School baseball team to an 11-3 victory over Bellingham.
Big things sometimes come in small packages. And such is the case, it seems, with the diminutive, 5'6" Briones. The under-sized underclassman belted two hits in the first inning of Saturday's game, in which the Grizzlies plated eight runs to quickly take control of the non-league contest. The biggest of the two first inning hits by Briones was a grand slam over the left field fence, which all but did in the visitors.
Briones, Sunnyside's leadoff hitter, added a two-out, RBI single in the bottom of the third. He finished the day 3-for-4 at the plate with 5 RBI.
"Besides being our leadoff hitter, he's our starting shortstop and he's our go-to pitcher when guys are on base," said Sunnyside Coach Dave Martinez.
A lot of responsibility heaped on just a sophomore, Martinez agreed, but chores to which Briones appears more than ready to take on.
"He's up to the challenge," Martinez said of his budding star.
As well as Briones performed Saturday, he wasn't the only Grizzly who shined. Senior Joel Zakahi stood out from the pack, as well, throwing four innings of two-hit ball against a perennially tough Bellingham crew that is expected to make some noise again this spring when the playoffs roll around. Zakahi (1-0) picked up the win for his efforts, which included fanning three hitters in his four full innings of work.
Sunnyside, too, received a solid effort from its bullpen. With Briones pitching the fifth, Ryan Engel the sixth and Cole Boboth the seventh, the Grizzly relievers held Bellingham scoreless down the stretch.
"Our relievers did a good job," Martinez said.
Offensively, Sunnyside came up with eight hits off the two lefties Bellingham put on the mound. The only other Grizzly besides Briones to have a multi-hit game was 5'5" sophomore Diego Burgueno, who went 2-for-4. Engel, however, was credited with two RBI, thanks to drawing a pair of bases loaded walks.
For Sunnyside (1-2-1), Saturday's victory was its first of the season.
"To win, it takes pitching, defense and hitting," said Martinez. "Two out of three will usually get you a win.
"Our goal was to get all three done on Saturday. The kids accomplished their goal. They're getting better each time out," he said.
The Grizzlies are scheduled to play at Ephrata this Tuesday, with this coming Saturday's home doubleheader against Selah the Mid-Valley League opener.
B'ham 0 1 0 2 0 0 0 -3 3 0
S'side 8 0 1 2 0 0 x -11 8 0
WP-Zakahi (1-0). LP-Calwell. Calwell, Taylor (4) and Halverson. Zakahi, Briones (5), Engel (6), Boboth (7) and Marquez. Sunnyside highlights: Briones 3/4, HR (1), 5 RBI, Burgueno 2/4, Engel 2 RBI, Marquez 1/3, Cornelius 1/3.