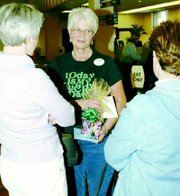 Cookie Rayburn has been an employee for U.S. Bank for the last 29 years, the last six here in Sunnyside. That came to an end Friday as Rayburn finally called it quits and retired from her sales and service management position.
"I'm going to miss the customers and my fellow employees who I love," she said. "They're like my grandkids."
Rayburn first took a job as a collateral clerk when she first went to work for U.S. Bank. Her job consisted of making sure the loan files were up to date and in order.
After this position she moved over to customer service and has been doing accounts for the last 25 years.
Asked about the biggest change she's seen at the bank in 29 years and she answered, " It's all cyclical."
She said over the years things have changed but they always seem to come back around.
"When I first started we were really big on customer service and then we went to auditing," she said. "Now we are back on customer service."
Rayburn and her husband plan on becoming full-time RVers now. "Basically gypsies," she said.
This spring and summer they will be working as campground hosts at Windust Campground on the Snake River.
"We'll be checking people in and cleaning up," she explained. "A no stress job."
The job will last six months and they hope to keep working at different campgrounds over the years. For the meantime, Rayburn and her husband will be living in their RV and going, "wherever the winds takes us."