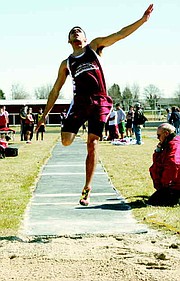 OTHELLO - Six teams competed at the Othello Relays last Saturday with the Grandview boys track team placing first and the Lady 'Hounds taking home second place honors.
"I was really surprised with some of our young athletes," Grandview Coach Jared Lind said. "They haven't competed before and they did very well."
The boys edged out Lakeside by three points for the win, 148-145. Othello was a distant third with 70 points. The Grandview girls placed second with 114 points to Lakeside, which finished with 137 points.
Britnee Sanchez won the 1,600m run with a time of 5:52.63. She was also a part of the winning team in the 1600m relay.
Grandview's Tohnya Wysong finished third in the pole vault with a height of 8 feet, 6 inches. "She made three strong attempts at 9 feet, which would have tied a school record," Lind said. "That's very good for the first meet of the year."
The Grandview girls also finished first in the sprint medley (2:06.21) and the 400m relay (4:38.27).
On the boy's side, the Greyhounds placed first in the 110m hurdles with a time of 20.17. Matt Concienne led the way for the Greyhounds. He was followed by Storm Shea, Steven McEvoy and Tim Taylor of Grandview for the second, third and fourth positions.
Leon Knights jumped over 19 feet in the long jump. "He's a sophomore and that's pretty impressive," Lind said. "He went 37 feet, 11 inches in the triple jump and won that event. He also was part of the 400m relay team that took second."
Juan Razo won the 300m hurdles for Grandview with a time of 42.52. Razo is a returning junior and he placed fourth in the 300m hurdles at State last year.
Francisco Valencia, Brandon Artz, Razo and James Vela took first place in the 1,600m relay with a time of 3:40.24, a full four seconds faster than second place Othello.
Grandview next travels to Prosser to take on East Valley, Connell and the Mustangs this Thursday, March 23, at 3:30 p.m.