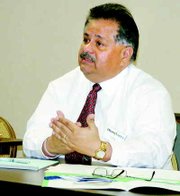 PROSSER - A new age is dawning in the seasonal employer/employee relationship between growers and their farm workers.
A pilot program by WorkSource will be up and running in the next month, enabling farmers to first recall back to the fields those who are drawing unemployment compensation benefits from them.
"The goal isn't to lower your unemployment insurance rates," WorkSource Area Director Larry Sanchez told a small gathering of farmers on Friday morning. "The goal is get those people back working."
Speaking during a grower's breakfast at the Inn at Horse Heaven in Prosser, Sanchez said the pilot program represents a fundamental shift in the approach to unemployment benefits.
"The days of working in the fields six months, then drawing unemployment for the rest of the year are over," he said. Noting unemployment benefits are not intended as a lifestyle, Sanchez said the program is more of a "band aid" to get workers back on their feet after being laid off.
"Those who are charging you the most (filing claims which result in higher unemployment insurance rates) can be the first you call back to work," Sanchez said.
When drawing unemployment benefits, a person must show they are trying to look for other work.
Sanchez said if a former worker drawing unemployment is contacted by a farmer to come back to work and declines, then the person will be asked to visit the WorkSource office to find out why.
The result, he added, could be a loss of benefits.
Jill Hargraves of Obert Cold Storage in Zillah told Sanchez her firm attempts to hire some workers, only to find out their Social Security numbers are not valid. Those workers in turn, she said, file for and receive unemployment benefits.
"Report that," he replied. "They have to have a legal Social Security number in order to draw unemployment."
Sanchez reminded growers that while WorkSource can help in referring workers to the fields, it cannot prove worker documentation. "When we ask them if they are documented and they say yes we take that at face value," he explained. "If we start documenting farm workers, then we have to do the same for workers in all fields."
Mark Rodriguez, WorkSource Operations Manager in Sunnyside, said his agency lacks both the manpower and expertise to examine documents. Further, he added, if a mistake was made WorkSource could face liability issues.
"Some say there is a farm worker shortage and some say there are plenty of farm workers," said Sanchez. "The truth is, there aren't enough documented workers and an abundance of undocumented workers."
Sanchez also encouraged growers to be more specific when they request workers.
It is no longer enough to just say apple pickers are needed, he noted as an example. Sanchez said there are new varieties of apples and the type of experience needed to pick Red or Golden Delicious apples is different than for some of the special varieties.
"The more information you provide, the more it helps in our screening," he said.
To facilitate grower/farm worker matches, Sanchez said WorkSource outstations will open beginning April 10. These can help connect workers to farm employment closer to where they live to save on fuel expenses.
The Grandview station, located at 103 Elm, can be contacted at 882-3200. WorkSource will also operate a Granger outstation, located at 121 Sunnyside Avenue. That office can be reached at 840-3671.