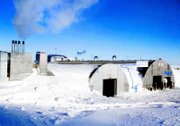 Sunnyside native Lisa Morrow is used to a non-stop summer sun beating down and 90 degree temperatures.
That was until she recently spent three summer months in a land with literal non-stop sunshine, 24 hours a day, and 90 degree temperatures-below zero.
Morrow, a 1986 Sunnyside High School graduate, returned last month from the South Pole, where she provided building maintenance for facilities that support research by the National Science Foundation.
She explained that research conducted at the site includes ozone and environmental studies.
Morrow was hired to provide maintenance services during the Antarctic's "summer" months, which run from the end of October through early February.
A windy summer day, she noted, may have temperatures hovering around minus-90 degrees. "It warmed up to 7 degrees for a couple of hours at the peak of summer," she laughed.
Then there was the sun. Lots of sun.
"Luckily I was in a room with a window that had some heavy duty blinds," Morrow said of her sleeping quarters. "One time we played kickball at 3 a.m. We had an outdoor barbecue, but the salsa froze."
Freezing salsa was the least of the worries for Morrow and the other 200 or so employees the National Science Foundation hires each summer.
So how cold was it?
"If you threw hot water into the air it would come down as vapor," she said.
That's vaporized, folks. It's so cold that hot water doesn't even get a chance to freeze.
The National Science Foundation provided bundles of clothing to keep employees protected from the extreme chill.
Sometimes that wasn't enough.
"After you were outside for about 20 minutes you could feel the cold creep into your shoulders," Morrow said. She recounted how her goggles would ice up, requiring her to step inside one of the heated buildings of the National Science Foundation complex.
It was important, too, she noted to make sure all skin was covered when going outside. "I was real cautious," Morrow recalled. "One time I took a glove off just for three minutes to take a picture and my fingers hurt so bad."
She also recounted how she saw some of her colleagues with minor frostbite on their nose. Others, she added, would complain of pain because of freezing air in their lungs after they were outside.
So, what prompted her to take the job and work under the most extreme of conditions?
"I was looking for a job. I had done a lot of work in maintenance with juice plants and felt like something totally different," said Morrow, 38. "I decided to go for the adventure."
While on her Antarctic adventure, Morrow was responsible for maintaining the furnace, water supply and power plant which kept the National Science Foundation complex humming. As might be expected at the South Pole, the outside working environment offered a whole new set of challenges.
Morrow described how handtools would sometimes crack from the intense cold. Then there was the matter of breaking through the ice to work on a building. "Sometimes we'd take a chain saw and have to cut ice away from a building if we needed to get closer," she said.
If a structure needed painting, a blow torch would be required to heat up the surface so that the paint would stick when applied.
All adventures come to an end at some time, and Morrow said she was ready to come back to the states when her contract ended in early February.
Missing the holidays with family for the first time, Morrow said she also was eager to come back as the Antarctic's winter season approached.
"It's dark 24 hours a day during the winter and no flashlights can be used because of the research," she said.
Morrow said a highlight after leaving the South Pole was seeing her first sunset in months, as a plane flew her and others to their first stop at Christchurch, New Zealand.
Is there a possibility she would return to her "summer" job at the South Pole?
"These people (National Science Foundation officials) are trying to get me to go back," she smiled. "I don't want to close the door to that, but I think I'd like to have a normal job again!"