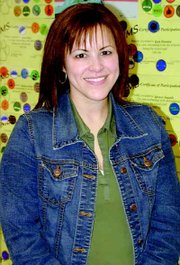 Sunnyside native and Harrison Middle School 8th grade teacher Rebecca Rodriguez will be featured on the third season of "Gimme the Mike," an American Idol-type show that showcases the singing talent of people from eastern Washington and northern Idaho.
The show, which airs Sunday nights at 6:30 on KNDO from April 9 to May 7, will feature 20 singers that auditioned in Yakima, the Tri-Cities and Spokane.
Rodriguez said she was given 90 seconds to audition and sing whatever song she wanted. It was her second time auditioning. This year she sang "Long Time Gone" by the Dixie Chicks, and earned a spot on the show after failing to last time around.
"I left thinking I did OK," said Rodriguez, noting that a call from the show's organizers meant she did more than OK.
Rodriguez said she doesn't know when she'll appear on the show yet, but when she does she'll again have 90 seconds to try to impress a panel of three judges, a la American Idol. However, unlike Idol, the audience has no say in choosing the winner.
For her television performance, she'll be singing "Spiderwebs" by No Doubt.
Rodriguez said all the songs were picked because they could be cut down to 90 seconds and sound good to the TV audience.
So how long has the 30-year-old been singing? The short answer is: a long time.
"My whole family; we're all singers," she said. "Music has been a part of our childhood."
She's sang in choirs and for weddings and funerals, she said.
Rodriguez said she normally sings songs in Spanish, but likes all types of music.
"That's a tough question for me because I like singing all kinds of songs," she said when asked about her favorite kind of music.
If Rodriguez is talented enough to win the singing competition, she'll win a number of things, including a 2006 Toyota RAV-4, a spa treatment, a couch and a demo recording session.
Rodriguez said if she wins the competition she doesn't know if she'd want to pursue music as a career. Life on the road can be hard.
"It's really tiring," she said.
But just because she doesn't see herself doing it fulltime, doesn't mean she would stop singing, she said.
"I love performing," Rodriguez said.
For more information about the show visit www.gimmethemike.tv.