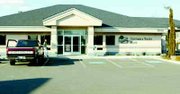 SPOKANE - AmericanWest Bancorporation, based in Spokane, announced last week it has acquired Columbia Trust Bancorp.
"With the close of this acquisition, we look forward to increasing our market share in the Tri-Cities and Yakima Valley due to the combined strength of these teams," Robert M. Daugherty, AmericanWest Bancorporation President and Chief Executive Officer, said. "We are focused on ensuring that the integration process is seamless for Columbia Trust customers and we are on track with regard to realizing anticipated cost savings during 2006."
Columbia Trust Bancorp, the parent company of Columbia Trust Bank, was based in Pasco. AmericanWest Bancorporation expects the integration of the Columbia Trust Bank branches into AmericanWest Bank to be complete by May 1, 2006. Until then, the Columbia Trust Bank branches will be operated under the Columbia Trust name as a division of AmericanWest Bank.
"Prior to the merger, the two companies shared similar views on community banking and the value of providing excellent customer service so going forward, customers can expect the same great service from our joined team of baking experts," Daugherty said. "Our customers will also benefit from the added convenience of more locations to choose from when they want to visit an AmericanWest Bank."
In Sunnyside, the current branch of AmericanWest at 322 S. 6th Street will move and merge with the Columbia Trust Bank branch located at 1010 Yakima Valley Highway, according to Diane Kelleher, Chief Financial Officer at AmericanWest Bank.
"There will be some minor expansion work done on the building at 1010 Yakima Valley Highway before the two staffs merge," she said.
AmericanWest Bank is planning on converting Columbia Trust Bank's systems the weekend of April 28. Once the two staffs merge together at the building at 1010 Yakima Valley Highway, the building at 322 S. 6th Street will be sold.
Columbia Trust Bank had branches located in Pasco, Kennewick, Sunnyside and Yakima.