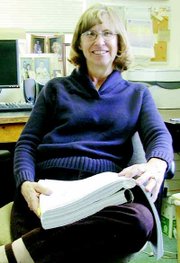 Rural real estate appraiser Deon Herndon credits the drought of 2001 with prompting her to open an office at her family's Independence Road home.
"We farm and we knew that year the cash flow would be tight, so that pushed me to get back in it," Herndon said of the rural appraisal business.
She has been involved in rural land appraising in one form or another since her graduation from the University of Idaho in 1976 with a degree in agricultural economics.
Her experience includes seven years as an appraiser with the Federal Land Bank in Moses Lake and five years with Farm Credit Services in Yakima.
She and husband Rick have operated their farm just outside of Sunnyside since 1982.
Though her accreditation allows her to also perform residential appraisals, Herndon said she focuses on appraising rural and farm properties.
"Most of what I do is working for mortgage loan companies," she said. Her most complex appraisal was a 1,500 acre farm, but bigger doesn't always mean an appraisal will be difficult.
"It comes down to how much information is available," said Herndon, noting some counties even provide aerial photographs on-line.
On the other hand, if research is required to discern easements or water right issues, then a farm land appraisal valued at $100,000 could require more work than one appraised out in the millions.
Rural appraisals aren't necessarily performed for prospective purchases, Herndon noted.
"Sometimes it's a divorce settlement, estate planning, bankruptcy," she said.
With her finger on the pulse of farm property values, Herndon said some of the biggest changes she's seen in the business is the trend toward larger, more concentrated farm holdings, rather than smaller farm operations.
"The family farm is almost a thing of the past," she said.
While a typical residential appraisal may be completed in a matter of days and takes maybe five or six pages, Herndon said it can require weeks to thoroughly appraise a complex farm property. One farm appraisal, she noted as an example, ran more than 400 pages, including 200 pages of addendums.
"I always try to get the most accurate appraisal I can," she said.