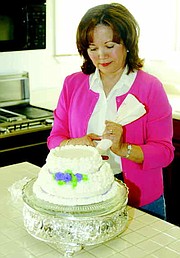 In 2005 Dana Ortiz stopped working as a cake decorator for Food Pavilion and planned on taking a long vacation. Those plans were interrupted by a flood of requests for her to make cakes from former customers. Because of these requests, Dana's Cakes was born.
Ortiz was born, raised and educated in Sunnyside, and has been decorating cakes for more than 15 years.
"I've always been pretty good with my hands and with drawing," she says. "It's been fun."
Ortiz started working at Rosauer's in 1978 as a salesperson in the bakery. She started on-the-job training as a cake decorator when the full-time decorators would have their two days off. She would fill in.
Eventually Rosauer's got bought out by Food Depot and that's when Ortiz started decorating cakes full time.
Her first cake was a simple little design that turned out very cute, she says. She still has the picture. "It was a piece of cake," she adds slyly.
After years of working at Food Depot Ortiz went to Safeway until finally settling at the Food Pavilion. By 2005, Ortiz had earned her long awaited vacation.
If only her friends and customers would let her enjoy it.
She had quite a few friends who would take their business to where Ortiz was working and when she stopped working, her friends just followed her to her house.
So, she got her business license and officially opened Dana's Cakes the first of the year.
So far it's going good. "I'm busy," she said. "Especially with wedding cakes." She figures June will be a busy month with all of the weddings but she's sure the birthdays, baby showers and other occasions will keep her busy too.
Ortiz loves her job and loves being in the kitchen. Along with Dana's Cakes, she is working part-time for the Sunnyside School District in the cafeterias. She helps the cooks and serves food.
For now, Ortiz runs Dana's Cakes out of her home and she has no plans on getting a bigger place anytime soon. "We'll just see how it goes," she said.