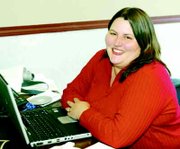 Real estate has been part of Melissa Dekker's life for a very long time. Her father is in the business and so is her husband.
"It's something I've thought about for a long time," she said.
Dekker says over the years becoming a realtor has been something she's been encouraged to do and people have told her they thought she would be good at it. So last month Dekker took the Washington state real estate license test and joined her father and husband by becoming a realtor for Prudential Valley Investment Properties.
At first she felt a bit intimidated but she drew on her past experience as a newspaper reporter and that helped.
"Working at the paper helped me prepare for a job in real estate," she said. "There are a lot of parallels. Some people won't see them but I do. It gave me the skills to go up and talk to people."
So when an opportunity arose for her to get her license, she took it.
Dekker took the online course. She had to have 60 class hours before she could take her test. Once her hours were up she took the test and passed it on the first try.
Now she and her husband are working together very closely on transactions.
"I like working in this office," she says. "There are a lot of benefits. We have national recognition here, websites to market properties and my time is flexible so I'm able to care for our new baby without going with child care."
Her life is a lot more flexible, too. "That's something that's very appealing."
Dekker has been at Prudential for about a month now and according to her, she is really enjoying it.
"It's been a good thing," she said. "I really like the idea of helping people buy homes. People can buy lots of things but buying a home is the biggest purchase in their life. By buying a home they're investing in their families."
And that is something that's very important to Dekker and her husband who are very big on family.
"It makes us feel good to help other people invest in their families," she added.