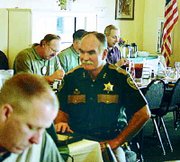 The sheriff rode into town yesterday with a message that neighbors should be watching each other's backs and keeping drug abusers out of their homes.
No, it wasn't a scene from an old west movie, but a visit from Yakima County Sheriff Ken Irwin to the Noon Rotary Club in Sunnyside.
"We really need each of you to get involved in some kind of neighborhood watch, even if it's just four or five of your neighbors whose phone numbers you know," Irwin told the Rotarians.
He said that any report of suspicious activity or people would be taken seriously by his department.
"And, if we come out and find everything is nice, that's fine; at least it will be checked out," he said.
His tough love advice came as he talked to the Rotarians about drug problems that are turning up more frequently in communities, among families of friends, people one knows or even in one's own family.
He gave three tips to prevent theft and other problems: "Put it away and lock it up. Don't allow friends and family who are using drugs to come into your home, and don't dismiss suspicious circumstances," Irwin said.
"Tough love does work," he said, adding, "I would challenge you, if you're going through drug problems with family members, seek help for that person you love."
He said the search might lead to the arrest of the abuser, which might just be the kick-start needed to make a difference in the abuser's life.
Irwin said that when he came to the sheriff's office four years ago, he told his people he needed "good, hard-nosed, track 'em down determination", but that they also had to be compassionate and helpful and have knowledge and persistence.
"I didn't need just a heat-seeking missile out there," he said.
What he got, he said, was "really good people. I praise them every chance I get."
He has 71 people in the sheriff's office, including himself and the under sheriff, to take care of 90,000 rural residents, who live within 4,276 square miles.
"Violent crime is up 20.4 percent, and we can't have that," said Irwin, who noted that violent crimes increased from 49 in 2004 to 59 in 2005.
Property crimes went from 1,365 in 2004 to 1,637 in 2005.
That's when Irwin emphasized the need for neighbors to be aware of what's happening across the fence and down the road.
He said the three-tenths of a penny legislation that passed in 2005 has helped his office support six deputies and the vehicles and necessary equipment for each one. He said Proposition 1 also protected eight existing deputy positions from budget cuts, upgraded the office's phone system, provided cell phones instead of pagers to detectives, and will buy a bar coding system for property and evidence that's collected.
"It will also create a lieutenant's position to coordinate training, accreditation, grants and research and development," said Irwin.
He noted there are a raft of other things that Proposition 1 has provided, including increasing disaster preparedness.
Irwin urges Lower Valley rural residents to phone Lt. Max James at 509-574-2500, if they have problems or suspect illegal activity. Upper Valley rural residents should notify Lt. Brian Winter at the same number.
Irwin was visiting the Noon Rotary Club not only as a guest speaker, but as a fellow member from The Sunrise Rotary in Yakima.