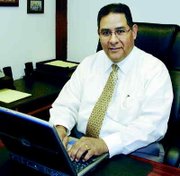 The sudden loss of his father, and his own mistakes have motivated financial planner Jesse Hernandez Jr. to help others.
After seven years with Kansas City-based Waddell & Reed's Yakima office, Hernandez Jr. recently opened a branch office for the firm here in Sunnyside.
"The biggest motivator is from my own life experience," he said. "I'm able to keep people from making the same mistakes I made."
His biggest financial mistake?
"I changed jobs and cashed in my 401K," Hernandez Jr. said. "That was a big mistake because I lost about half of the account balance because of penalties and taxes."
Hernandez Jr. said he feels at home in his new office digs, situated at 626 E. Decatur Avenue across from a bank and next to the Cactus Juice cafe.
"I look forward to being more visible in the community," said Hernandez Jr., a resident of Sunnyside for more than 20 years. "Before when people said they wanted to see me I'd have to tell them my office was in Yakima," he added. "Now they can see me here in town."
Another benefit to working out of an office in town, he added, is more time with his wife, Maria, and their two children.
Hernandez Jr. said he plans to still be available for house calls, especially to small business owners who don't always have time to leave their store or office.
His Sunnyside office, he added, will eventually bring on an administrative assistant and two additional financial advisors as the business grows.
Hernandez Jr. knows a thing or two about running a small business, as he operated a sports card shop in Sunnyside during the early 1990's.
"That experience gave me an idea what it's like to be a business owner and working with the public," he said.
While running the shop, Hernandez Jr. earned his degree from Heritage University, before earning credentials as a charter mutual fund consultant.
Once he made the decision to become a financial advisor, Hernandez Jr. said he chose to work for Waddell & Reed because the firm, founded in 1937, is a nationwide firm with its own mutual funds. "Since we sell our own mutual funds we know the product."
Hernandez Jr. said his office can tie together financial planning needs, including retirement, college savings and life insurance.
"People who have a financial road map are more inclined to reach their destination," Hernandez Jr. observed. "My mission is to touch the lives of as many people as possible and help them reach for and achieve their financial goals and dreams. It all starts by putting it down on paper and creating a plan of action that will allow them to make it happen."