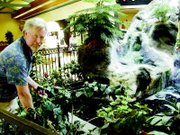 When he was five years old, Phil Davis wandered across the road to see what a neighbor lady was doing.
"She was getting rid of these plants and I couldn't bear to see them thrown away. I came back with an armful of buttercups and violets that are probably still blooming at our old home in Buena Heights," said Davis.
"That was the start of it," he added.
Today he is known as The Plant Man, lives in the country between Zillah and Granger and is in business supplying plants and maintenance of them to 30 businesses from Yakima to Pasco.
"My service is most conducive to businesses where people sit and wait a long time or to businesses that have high visibility, like banks," explained Davis, who counts Mid Valley Mall, Sunnyside Community Hospital and Bank of America among his Sunnyside clientele.
He also provides all of the interior plants for North Star Lodge, Memorial Hospital's cancer treatment center in Yakima.
"Things that are alive and healthy are important in places like that," he noted.
Davis makes his rounds weekly to keep the plants he provides and arranges looking nice.
"I groom the plants, pulling out dead leaves and flowers, poor looking limbs and branches. I do anything that's required to keep plants looking healthy. That's watering, grooming, dusting and cleaning them and providing pest control. And, of course, turning them to catch the light in places where that's needed," said Davis.
Although it is not a major portion of his business, which he started in the summer of 1999, Davis said he will also sell plants to individuals. "But don't call me to lay sod because I don't do that anymore!," he said, laughing.
He was into exterior landscaping at one time, not only managing a landscaping crew in Vail, Colorado, but also partnering in a landscaping business in Yakima.
"I had the thought way back then that doing indoor landscaping would be much more fun," he said.
In between the exterior and interior landscaping, Davis was a shepherd with his own flock...as a non-denominational minister. For personal reasons, he left that calling, in body, if not in spirit.
"I don't believe God has removed me from being an ordained minister, but my mission field is my children right now," said Davis, a single father raising two girls.
"One pushing 15 and one halfway to 13. I've got them right where they want me," said Davis, grinning.
In addition to the activities generated by a couple of active offspring, Davis likes to romp through the summer on stage as part of the cast of the Toppenish Creek Players whenever he can snare a role in one of their melodramas.
"The Players may never be rising stars, but we do it because we love it, not because we think we're some punkins, as my grandma used to say," said Davis, adding that he would like to someday be assigned a villainous role. "For the last two years I've been as close to the hero as those plays come," he said.
Davis holds a degree in zoology from the University of Washington and a degree in theology from a Bible college in Emporia, Kansas. He said he has enjoyed the variety of employment he has followed over the years and likes what he is doing now, too.
"I believe people should enjoy what they do or be honest and get out of it," he said.