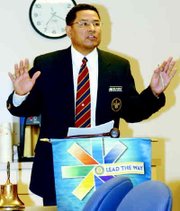 Frank Villanueva believes his time in the Boy Scouts of America has helped him make good decisions in his life. Because of his values and those of the Boy Scouts, Villanueva decided to go to work for the organization and has been working for the last 21 months as district executive for the Grand Columbia Council, he told members of the Sunnyside Daybreak Rotary Club, Wednesday morning.
When Villanueva came on board, membership was in a decline in the area. Villanueva went out and targeted the Hispanic community, talking about the Scouts and presenting their philosophy. Today, membership is up 25 percent. "We've turned things around in the last two years," he said.
He told Rotarians the Boy Scouts are an educational program that works closely with schools. "The schools allow us to come in and recruit cub scouts, boy scouts, explorers and venture crews," Villanueva said.
The Boy Scouts of America started in England in 1910. By 1916 the United States Congress chartered the BSA to provide an effective educational program for youth and young adults designed to build desirable qualities of character, to train in the responsibilities of participating citizenship and to develop personal fitness.
The first stage of the BSA is the cub scouts. When a boy turns seven he can join. The cub scouts are parent led and when the child reaches age 11, he can join the boy scouts, where the regime changes from being parent led to being scout led.
"This is done by the patrol method," Villanueva said.
The boy scout troop will have a senior patrol leader. This person gets guidance, direction and coaching from his scout master. The senior patrol leaders execute the orders from the scout master to the patrol leaders who in turn execute the orders to the scouts who make up the patrols.
When the kids are 14 years of age they can join the venture crew. This is a leadership program. "We use high adventure to teach leadership," Villanueva explained.
The kids in the venture crews plan everything from the locations they go to, what they will do there, what supplies they will need to complete their task and who will be training them.
An example Villanueva gave of an high adventure activity was when the adventure crews learned how to climb a 40-foot tower. After they climbed they learned how to repel down the tower.
"We want them to be resourceful, responsible and independent," Villanueva added.
There is also the explorer post for co-ed aged 14-21. Here, the kids get an occupational look at certain industries like the police department, fire department or a hospital.
"It gives the kids a chance to see the occupation without experiencing any danger," he said.
Villanueva told the Rotarians the BSA trains kids to make ethical choices throughout their lifetime. "It's never too early to get kids on the right path," Villanueva said.