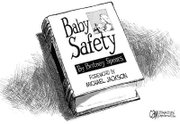 BY DOC HASTINGS
As a parent and grandparent I am deeply troubled every time I read a news report about a crime against a child. Our children are the most vulnerable members of our society and providing them with a safe environment is a national priority.
The safety of our children is dependent on the keen awareness of parents and all members of our community. However, the federal government can support these efforts by providing tools critical to protecting children from criminals. With my support, Congress created the first-ever national sex offender registry so that we can protect ourselves and our families by knowing where sex offenders live and work.
Recently, we passed the Children's Safety Act, which cracks down on criminals who prey on children and strengthens the current national registry so we always know where they are. The House-approved plan toughens criminal penalties for those who commit crimes against children and for convicted sex offenders who fail to properly register.
The Act provides a system to better coordinate the exchange of information by requiring states to notify one another when a sex offender moves from one state to another, and expands notifications to local law enforcement, schools and volunteer agencies located in areas where sex offenders live and work.
The Children's Safety Act is just one of the many plans I have supported to prevent, investigate and more effectively prosecute crimes committed against children. I also worked with my colleagues in Congress to strengthen and expand the Amber Alert system. Amber Alert is a communications network used by federal, state and local law enforcement agencies to help locate abducted children quickly and safely. The system now exists in every state and nationwide, the program has helped save more than 200 children.
The increased protections for children in the Children's Safety Act and other laws help prevent crimes against children, and it is my hope that the Senate will act quickly to approve this bill so that it can be signed into law by the President.
For tips on how to keep our children safer, please contact the National Center for Missing and Exploited Children by calling 1-866-476-2338 or by visiting www.ncmec.org. To access the national sex offender public registry, please visit www.fbi.gov.
Congressman Doc Hastings (R-Pasco) represents Central Washington's 4th Congressional District.