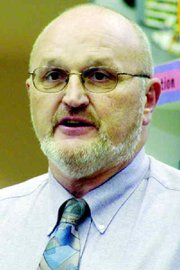 MABTON - The Washington Association of School Administrators (WASA) and the PEMCO Foundation recognized Mabton Jr./Sr. High School Principal Keith Morris as a recipient of the 2006 Robert J. Handy Most Effective Administrator award, March 13.
Morris received his award last week at the WASA small schools conference in Yakima.
Three awards are presented each year based on district-size categories, with a $10,000 award equally divided by the three winners.
Morris received his award in the mid-size district category. Mabton's student body is nearly 95 percent Hispanic and 90-95 percent of its graduates pursue further education, with 50 percent enrolling in college.
Morris was nominated by Mabton High School teacher Tamara Steen. Steen has worked under Morris for the last 21 years.
"He's a gifted administrator," she said. "He has a knack of finding the strengths of teachers and developing those strengths to make us more successful."
Steen wrote in the award nomination about how Morris developed a clear and shared vision and purpose.
"Five years ago Mr. Morris announced to his staff that we needed to come up with a shared vision and purpose," she wrote. "He worked with his teachers and with the district to provide release time one afternoon each week for collaboration. After a fierce debate for a whole year, we had our mutual vision."
"I can't emphasize this enough," Steen said. "Everything he does is for the kids. He works very hard to support his teachers and their work who in turn support the students and their work."
Morris hired a literacy coach to help teachers learn how to improve instruction. Steen says he is so open to improving himself as an administrator and improving instruction, he inspires his staff.
Morris supports a learning environment. He listens to complaints and suggestions with an open mind. Steen said he is always seeking to understand his staff's strengths and weaknesses. He works to develop teacher leadership.
Steen gave a few examples of how Morris maintained a high level of community involvement.
"First," she writes, "Mr. Morris established parent-teacher conferences twice a year to improve communication between home and school. Second, he established advisories so each student has a staff member to serve as a liaison between the home and school. Third, he helps organize the annual community town hall meeting to which all stakeholders are invited to plan the direction of the district."
Morris gave credit to his staff for the award.
"It is a tremendous honor to receive this award from WASA and PEMCO," he said. "This is really a team award. Our entire staff is committed to providing quality instruction to all students. It is a pleasure for me to work in a collaborative and congenial environment."
This wasn't the only award Morris accepted last week. Mabton High School was recognized for its academic excellence for 2006.
The National Association of Secondary School Principals in conjunction with the Bill and Melinda Gates Foundation presented the award to Morris at a March 15-19 conference.
Out of 21 Break Through Project schools, four earned awards.
To qualify as a Break Through Project school, the schools must be at least 50 percent minority, have 50 percent of its students on free or reduced lunch programs and have at least 90 percent of its students go onto post-secondary education.
"Three analysts visited our school last October," Morris said. "They spent a day visiting with the kids and teachers, and viewed the instruction going on in our classrooms."
Then Morris was invited to the conference to present a report on effective leadership. He was surprised with the award at a luncheon.
"It's really a school award recognizing what we're doing here and the changes that have been made," Morris said.
Two of the changes he mentioned were in instructional practices and developing a college-going culture.