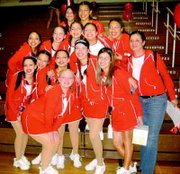 Their hard work finally paid off. For the past seven months the 15 girls who make up the Sunnyside High School dance team, known as the Grizzliettes, have been starting practice at 5:30 a.m. and practiced till 6:45 a.m. when they had to get ready for school. On Saturdays, they would put in six hours of practice.
"It's a very tedious sport," Grizzliette Coach Melodie Lopez said. "Dance has to be very intricate. When 15 girls are dancing they must make it look like just one person is dancing. Everything must be exact."
The Grizzliettes' road to State took them to four competitions during the year. The first one was in Richland, Nov. 2.
At Richland, the Grizzliettes were competing in the prop/production category. In this category they had to tell a story with their routine for the production part or take an object and embody a routine around it, the prop side. They chose the prop part of the competition and took a chair and made up a routine around it.
They took first place honors in the competition.
After that the Grizzliettes changed their routine to the Hip Hop category.
It took a while to work out the kinks of their new routine and it showed in their next two competitions. Needing to score a 195 out of a possible 300 points to advance to the District championships, the Grizzliettes received 172 points at the Eisenhower competition and 193 points at the Kamiakin competition.
The girls had one more competition to qualify for Districts.
At the Pasco competition, the Grizzliettes exploded for 239 points, earning them a second place finish and a District berth.
Eight teams performed at Districts, held in Pasco, March 7. The Grizzliettes needed to score 210 points to advance to State. They got just enough as they were awarded 212 points for their Hip Hop routine and placed fourth.
The team is very young. Only two members of the Grizzliettes are four-year members. There is one three-year member, four two-year members and eight girls are on the team for the first time.
"I believe this younger team is more driven," Lopez said. "They were told by their peers at the beginning of the season that they weren't good enough. That's what drove them all year. Now they're going to State."
For Lopez, a 1991 Mabton High School graduate and former cheerleader, this will be her second time taking a dance team from Sunnyside to State in her five years of coaching. She has led the Grizzliettes to Districts three times now.
The team is preparing for State the same way they have prepared for all their competitions this year. They start off their practices with 100 crunches, 25 regular push-ups, stretching exercises and then they do five grinders, which means they run the stairs on the bleachers five times.
"They've been working hard," Lopez said, adding she doesn't think people understand how hard the girls work.
"People look at us as a halftime show and it's definitely more than that," she said. She mentioned the Grizzliettes march in summer parades to help with their drill practice.
The State competition will be held at the Yakima SunDome March 24-25. The Grizzliettes will perform on Saturday, the 25th, at 4:57 p.m. Their routine will last two minutes and 32 seconds. After that, they will know if all the long hours and hard work will have earned them a State title.