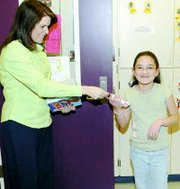 To better prepare its fourth graders for the looming WASL test, Pioneer Elementary School with help from the Yakima Valley Farm Workers Clinic and the Northwest Community Action Center's 21st Century program has held a WASL camp for the last six weeks.
Of 138 kids in the fourth grade at Pioneer, 122 of them enrolled for the camp.
"Our focus is on the WASL," Lori Rice, a teacher at Pioneer Elementary School, said of the camp.
The students were split into nine groups, called planets. The kids were grouped together by their reading ability.
Kids with a high reading level received three weeks training in math and three weeks in writing. Kids with average reading skills took two weeks each of reading, math and writing. For those kids with very low reading skills, they took all three skills too, but also had extra emphasis on vocabulary and comprehension.
"The WASL tell us where the students are at and where the school is at compared with other schools with the same demographics," Rice said.
During the camp, the kids were taught how to prepare for the WASL. They have been using booklets much like the ones they will be using for the real WASL.
The WASL will be given to the fourth graders April 17. There will be three parts to the test: reading, writing and math.
The reading portion will require the kids to read a short story and then without any help, write what the story was about.
The writing portion will have them answering a question given to them. In their written answer, they must have a clear introduction, body, conclusion and good detail.
The math portion will include adding, subtraction, multiplication, division and story problems.
To get the kids to come to camp every day for six weeks, there have been some incentives for them. When the kids logged in their fifth day, they received a candy bar. On their tenth day, they received a coupon from McDonalds for free french fries, on their fifteenth day, an ice cream bar was the prize and if they make it twenty days, they will get pizza.
If the kids performed above and beyond and did their best, they also received space bucks. They can use this play money to buy items in the space store. The store is open twice during the six weeks of camp. Kids can use their space bucks to buy just about anything.
"The kids know what to expect now," Rice said. "That's a big relief for them. If you go into the classrooms you can hear the excitement in the student's voices. It's amazing how excited they can get after being here for six hours. The learning never stops, just continues."