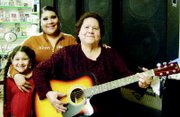 She strummed her guitar and sang for Oscar, her husband, at his funeral She took it up again and played and sang at the funeral for her daughter, Susanna, six years ago.
Donaciana Munoz, known as Chanita, put that guitar to good use over the years, ever since it was gifted to her by Berta and Rosendo Magana when they first opened The Sunnyside Music Store 11 years ago.
The Maganas knew that Chanita's beautiful voice had been raised in song, not only in her church choir, but whenever there was a memorial, a rosary service or funeral in the Hispanic community of the Lower Yakima Valley. Knowing that, they made her a gift of a guitar when she went shopping for one in 1995.
That guitar traveled with her on many occasions as she brought comfort to bereaved family members and honor to those who had passed on. She played for joyous occasions too, like weddings and quinceaneras.
Then, this past Christmas season, the guitar was stolen from her car.
"That guitar was very special to me. It was with me in my sorrows, especially when my girl passed away, and with me in my happiness," said Munoz.
But Munoz didn't give up singing and playing. She fell back to relying on an old guitar her husband had give her in 1975. "And I borrowed guitars," she said.
Recently the Maganas heard about the theft of Munoz's guitar, and decided to give her a new replacement.
While the guitar that disappeared from her car can never be replaced in her heart, the Maganas' gift of a new Indiana guitar this week will keep Chanita's spirit of caring and dedication alive.
"I will use it in the same way I did the other, playing whenever they ask. I always wait to be asked. That's the only way I play or sing, if they ask," said Munoz. "And when I play at a funeral, their sorrow is my sorrow."
She said she hopes her beloved guitar is continuing to give pleasure to those who hear its voice...and she hopes it is being held in the hands of someone who will use it to do good.
"And, if they want to return it, they can take it to St. Joseph's Church," Munoz said, optimistically.