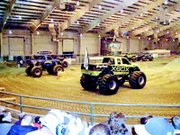 PROSSER - Easing their way into the season, the Grandview High School boys and girls track teams took second and third place honors, respectively, against Prosser, Connell and East Valley Thursday afternoon.
"We didn't run our boys 1,600m relay because of tight muscles," Jared Lind, Coach of the Grandview track team, said. "It's too early in the season to risk it."
The boys 1,600m relay is one of Grandview's best events and they might have edged out Prosser for the win if they would have ran it, but Lind thought it would be better to rest his guys to avoid injuries.
"We have very high expectations for this year," Lind added.
Grandview's Juan Razo again won the 300m hurdles with a time of 42.90. "It's going to be exciting to see if he can break 40 seconds this year," Lind said.
Leon Knights took first place in the triple jump with a distance of 39 feet, 10.5 inches. "He's only a sophomore and he won the event," said Lind. "That was very exciting."
Brandon Artz threw the javelin 156, feet 8 inches to win this event. "This was one of the more impressive wins," Lind said. "Artz has only been throwing the javelin for two weeks and we haven't had anyone throw for over 150 feet at Grandview in the six years I've been here."
Rafael Hernandez had a personal best in the shot put. Hernandez had a distance of 40 feet 8 inches, good for second place honors. Freddy Rodriguez picked up third place in the discus throw. His distance of 116 feet, 9 inches was also a personal best for him.
Prosser won the meet with 101.5 points. Grandview came in second with 95 points followed by Connell with 41.5 points and East Valley with 27 points.
On the girls side, the Lady 'Hounds place third with 63 points, ahead of East Valley's 41 points but well behind Connell's total of 84 points and Prosser's total of 81 points.
Kealey Johnston of Grandview won the triple jump event with a distance of 31 feet, 8.5 inches.
Grandview's Brittnee Sanchez took first place honors in the 1,600m run with a time of 5:46.08.
Teammate Chelsey Jones threw the shot put 30 feet, 3.5 inches for a first place finish and teammate Anna George threw for 30 feet, 1 inch for the one-two punch.
The Grandview girls came in second place in the 1,600m relay but they managed to shave off 10 seconds from their time last week.
"They did well," Lind said of his girls. "We're getting the kids some experience but we're also keeping them healthy."
Grandview will next host the Grandview Invite next Friday, March 31, at 3:30 p.m.