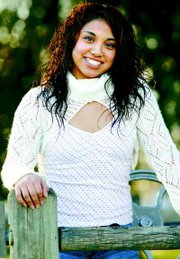 Rosa Picazo might be a little more familiar with Mexican culture than some of her fellow Sunnyside Miss Cinco de Mayo Pageant contestants.
That's because Picazo has only lived in Sunnyside for about half her life. You wouldn't know it to talk to her. The 16-year-old Sunnyside High School junior speaks perfect English, but for the first eight years of her life, Picazo lived in Mexico.
"I think I have better opportunities here," said Picazo, who is one of six teens vying for the Miss Cinco de Mayo crown, and will compete in the pageant on Friday, April 28.
There are several reasons Picazo said she wants to be the next Miss Cinco de Mayo. She said she wants to help out in the community.
She also wants to be something of a role model to her younger siblings, Diana, 14, Isabel, 11, and Kevin, 7, and a role model to people in the Hispanic community.
Unlike some people who come to the U.S. from Mexico at a young age, Picazo remembers well what it was like to come to Sunnyside as a child.
"I was scared at first," she said. "Because I didn't know any English."
But now that she's here and speaks English, she's taking advantage of the opportunities.
At Sunnyside High School, Picazo is planning to take a slew of advanced placement classes both this year and next.
She's also involved in volleyball and Spanish Club. She's participated in the Youth Group program at St. Joseph's Church for a few years, too, she said.
Once she graduates from high school, she plans to attend Stanford University. She wants to be a lawyer.
If Picazo becomes Miss Cinco de Mayo, she said she'll do a number of things in the community.
She'd like to help create programs for Spanish-speaking people to help teach them English, she said. She has a somewhat personal reason for that - both her parents speak only Spanish.
Her parents were against her competing in the pageant at first.
"In the beginning my mom didn't want me to do it," said Picazo, who noted after her mom found out more about the pageant she became more supportive.
She said she also wants to help curb teen pregnancy, as well as underage drinking and illegal drug use. Though she doesn't have a personal reason for wanting to curb drug and alcohol use, she's seen a couple of friends get pregnant while in high school, she said.
But before she can do all these things, she'll have to win the pageant.
For the talent portion of the competition, she plans to do a Cumbia dance - a traditional Latin American dance.
"The sooner I start practicing, the better," she said.