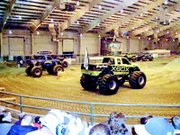 PASCO - Motorcycles will be kicking up dirt and monster truck motors will be roaring this weekend as the TRAC Arena in Pasco is invaded by the Monster Truck Nationals and Thrill Show tonight and Saturday night.
This year will feature a new line-up of monster trucks making their way to race for the championship, but although the trucks are new, they should be somewhat familiar.
The races will not only be a showcase of the best trucks in the state of Washington, but also a race to qualify for the Grand Nationals Championship.
Trucks in attendance will include High Voltage, Hot Stuff, Monster Moose, Public Disturbance, Arachnaphobia and Shattered.
In addition to the professional monster truck races, the event will feature "tuff truck" races where local truck owners can put their pick-ups through the same course the monster trucks will be going through.
In addition to truck racing, the American Motorcyclist Assocation will feature professional racers competing in a new type of racing.
"Speed Moto" is a new type of racing that integrates flat track racing and motocross racing to develop a whole new type of motorcycle racing excitement.
Along with races, people will get the chance to ride inside a real monster truck. Though you can't drive it, you can get the feeling of what the racers experience driving these powerful machines.
The show begins tonight at 7:30 p.m. and continues Saturday at 7:30 p.m. All tickets on Friday night are $10. Adult tickets are $15 on Saturday night with tickets for kids 12 and under $10.
Tickets can be purchased from Fiesta Foods, Ranch and Home in Pasco and Kennewick or at the TRAC Arena box office. Tickets can be purchased by phone at (509) 543-2999.
For more information about the races visit www.checkeredflagproductions.com.