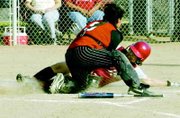 The Sunnyside fastpitch team finally got in the win column Thursday afternoon, and they did it to rival Grandview, spanking the Greyhounds twice in a doubleheader that included a make-up game rained out last week.
The Grizzlies beat the 'Hounds in the afternoon's first contest 23-11, which included a 14-run third inning for Sunnyside, after the Lady Grizzlies fell behind after the first inning and a half 11-0.
"The first inning was just a bleeder," said Ralph Mendoza, Sunnyside coach.
The Grizzlies scored 21 runs in the second and third innings combined.
"The outfield was mowing everything down," Mendoza said.
Two more runs in the fourth of the five-inning game were icing on the cake for Sunnyside.
Sunnyside's Jessica Cruz went 2-for-4 in the first game, hitting a double and a triple in the winning effort.
Several Grizzly batters fared well against the Greyhound pitching.
Grandview Coach Doug Hansen said his team pitched poorly in the outing.
"Our pitching was horrible," he said. "Horrible, horrible, horrible."
Kassie Guillen went 3-for-3 in the first game, and Lacey Yanez went 2-for-2 for Sunnyside.
Felicia Cruz went 2-for-3 in the first game for the Greyhounds.
Marina Martinez and Sadell Arevelo both had doubles for the Grizzlies in the first game.
The second game was much of the same for Sunnyside as the Grizzlies never trailed against Grandview, as Sunnyside scored three in the first, three in the second, six in the third and three in the fifth to take a 15-5 victory.
Cruz padded her batting average on the afternoon, going 3-for-4 to put her at 5-for-8 on the afternoon.
Yanez belted a triple in the second game and went 2-for-4 to put her average at .666 on the afternoon.
"We haven't had hits like this for a while," Mendoza said.
Sami Garcia fanned six 'Hounds batters in the second game of the afternoon.
The wins even Sunnyside's record at 2-2 while the losses for Grandview drop them to 0-4 on the season.
The Grizzlies will take the weekend off before traveling to Prosser next Tuesday.
The Greyhounds will host Naches Valley this Saturday. The game starts at 11 a.m.