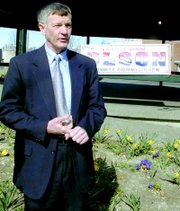 Promising a commitment to the Lower Valley, Union Gap City Councilman Dan Olson today announced his candidacy for County Commissioner, Pos. #3, at Sunnyside's Centennial gazebo.
"The Lower Valley has been left out," said Olson, a Republican. "My campaign is going to be Lower Valley."
Olson, 61, said he resides just over the boundary in District #3, across from District #2. Despite his upper valley location, Olson pledged that, if elected, he would open an office in Sunnyside to regularly meet with Lower Valley residents. "I'll meet with people here in the park if I have to," he said.
He cited transportation and water as keys for the Lower Valley, noting a well maintained road system is crucial for getting products from here to the west side of the state.
Olson said he favors the Black Rock reservoir project, but said more urgency is needed in obtaining water rights.
The former Union Gap mayor also fired a missive at current commissioners for the new jail built near the fairgrounds. "The people voted that they didn't want the jail and they built it anyway."
Olson said his decision to run for the County Commissioner seat-currently held by former Grandview Mayor Jesse Palacios who has indicated he will not run-has been in the making for three years.
"I decided if I don't like the way things are going, then I should get involved and try to change them."