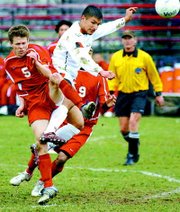 Juan Pineda, the coach of the Sunnyside High School soccer team, said it best. "If you don't hurt them when you have the opportunity the opponents come back and hurt you."
And so it was last Saturday as Sunnyside took on West Valley in a league soccer game. West Valley would eventually win the game 3-2, in a shootout.
"It was a very confusing first half," Pineda said. "I have never seen my players so nervous out in the field."
West Valley took advantage of this nervousness in the 16th minute as Tim Bowman received a pass at the half line and sprinted towards the goal, getting a shot past keeper Joaquin Perez. West Valley was up 1-0.
Pineda said his team wasn't slower than West Valley, they just didn't think to react in time.
In the 26th minute Sunnyside would even things up. A hard foul by West Valley gave the Grizzlies an opportunity at a free kick. Captain Miguel Galvan asked for the honor and he whizzed the ball past the keeper to tie the game at one.
Early in the second half, Brian Galvan took a quick shot from the right side of the field and knocked it in. He was assisted by Daniel Ramos. This made the score 2-1 in the Grizzlies' favor.
Late in the game West Valley kicked a corner kick that was blocked by the Sunnyside keeper, Sam Wise.
"Wise blocked the cross but didn't clear the ball enough," Pineda explained. "A West Valley player collected the rebound and returned a shot, putting it just past Wise."
The game was tied again at two.
"That was fortunate for them," Pineda said. "If we could have kept them scoreless for a couple of more minutes we could have secured the game."
The game ended in a tie so both teams prepared for the shootout to follow.
Daniel Valencia's shot hit the post on Sunnyside's first attempt and bounced away. Then West Valley scored on all five opportunities as they sealed the win with a 5-3 shootout victory to give them a 3-2 win.
Sunnyside had 12 shots on goal in regulation to West Valley's 9 shots on goal.
"I am happy we put our pieces together and scored when we were down and then stayed ahead for a good part of the game," Pineda said. "We just need to finish the game strong to be victorious."
Last year the Grizzlies lost to West Valley in a shootout but then came back to win against them at the end of the season.
"This year, without having a good game, we lose by the minimal difference of a penalty kick so I expect things to turn around next time we play at their home," Pineda said.
The Grizzlies (1-1, 3-1) will travel to Prosser to take on the Mustangs Tuesday, March 28, at 4 p.m.