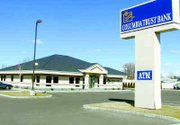 Single family home construction accounted for more than half of the total valuation of $1,151,171 in February building starts within the city of Sunnyside.
Of the $634,982 valuation in single family home construction starts, $384,562 originated from Aho Construction projects at 1521 S. 15th Street, 1612 Harvest Place and 1619 Harvest Place.
Other notable new home construction in February included First Choice Construction's $155,000 home project at 1311 Ridgeview Court and home construction by Christopher Olivier at 409 Villa Real Drive, valued at $95,420.
The single most valuable construction start permitted in February was a Mountain States Construction project valued at $212,000 for a planned addition to the Columbia Trust Bank building at 1010 Yakima Valley Highway.
A building permit was also issued to Cascade Fire Protection Company for a project valued at $167,669 at 916 N. 16th Street.
A permit was also granted in February for a service station project at 201 Yakima Valley Highway, valued at $35,000.
For the month of February, the city of Sunnyside collected more than $25,000 in total fees and issued 54 permits. City officials made 418 building inspections during the month.
Building permits accounted for 31 of the permits and well over half of the fees collected in Sunnyside for the month of February.
There were also 11 mechanical permits and 13 plumbing permits issued last month. In addition, there were six sewer connect and five water connect fees.