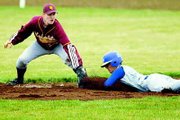 The Sunnyside Christian baseball team took on the LaSalle Lightning this past weekend in a doubleheader and got out-hit, out-hustled and outscored as the Lightning took both games, 16-3 and 14-0.
The Knights, in the opener, held on for six innings before the 10-run rule went into effect but they only last five innings in the second game.
"They are a very good hitting team," SCHS Coach Jeff Bosma said as he described the LaSalle team. "They were the number one team last year in our league and they're looking awfully good this year too."
Cole Van de Graaf (0-1) started the first game for the Knights, going five innings. Graaf had trouble with his control as he walked 10 batters. He also had seven strikeouts.
Justin Burgers came in to pitch the sixth inning but after LaSalle scored five runs in the sixth and the Knights failed to answer, the game was over due to the 10-run rule.
LaSalle hit six home runs on the day with Lawrence Cacchiotti leading the way. His two game total Saturday afternoon was three home runs, including a grand slam, and 11 RBIs. Six of those came in the first game.
Jake Bosma went 1-for-3 for the Knights. Matt Haak was 1-for-2 with a run and Brandon DeVries was also 1-for-2 with a two-run home run that brought home Cole Van de Graaf who was 1-for-3 in the first game.
LaSalle pitcher Michael Pleger struck out 13 batters in the first game.
The second game was even uglier as LaSalle scored five runs in the first, two runs in the second and seven runs in the third and held the Knights scoreless.
John Bosma started the second game and once again, the Knights fell behind early. Bosma (0-1) pitched for two innings, giving up four walks with two strikeouts and eight earned runs.
Burgers came back out in the last two innings for the Knights and held the Lightning scoreless.
Aaron Van de Graaf got both of the Knights' hits, going 2-for-2.
SCHS (0-2, 1-4) will host Klickitat this Friday, March 31, at 2 p.m. in a doubleheader.