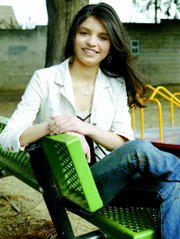 Alejandra Ramirez, a 17-year-old junior at Sunnyside High School and a full-time Running Start student at YVCC, is hoping she will be the next Miss Teen Washington when the competition takes place in Seattle this September.
Ramirez, who works at Stoke's Burger Ranch in Sunnyside, didn't really ever think about entering pageants or other events like it. She was busy with work, school and martial arts.
Ramirez takes three classes at YVCC, one history class and two sociology classes. The young coed holds down a 3.2 grade point average and hopes to one day major in sociology while in college. She is also a black belt in Tae Kwon Do, courtesy of her father who taught her.
So the Miss Teen Washington competition wasn't even in her head when she got a letter saying she had been invited to enter the competition. Ramirez has no idea how she got invited but once she did, she began to consider it.
"I've never ran for anything before," she said. "I thought it would be a good opportunity to meet new people and get involved in my community."
Ramirez filled out the application and sent it off. Last week she received a reply telling her she was one of the contestants.
"It will be a new experience for me," she said.
If Ramirez wins the teen title here in Washington, she will automatically qualify for the Miss Teen USA Pageant and will win a trip to Disneyland in California to compete in the national pageant.
She will also have to do community service. She is hoping to spend her time working with children in kindergarten or first grade. "I would like to help them with learning and reading," she said.
At the pageant in Seattle, 30 percent of Ramirez's score will be judged on formal wear, 30 percent on her personal introduction, 30 percent on her interview and 10 percent on her community involvement.
She will perform her kata from Tae Kwon Do for her talent and she will model casual wear for that portion of the competition.
"I think it's a good thing for young girls to see what kind of things they can accomplish," she added. "I'm very nervous but also excited."