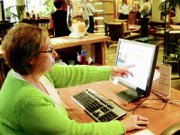 YAKJIMA - A giant step was taken earlier this month when a new cancer resource center opened in Yakima at Memorial Hospital's North Star Lodge.
The American Cancer Society (ACS) hopes to turn that step into a leap that will open resource centers at more locations where cancer patients are being treated.
"We need to be where cancer patients and their families are," said Marilyn Bowman, quality of life relationship manager for the cancer society.
"We realize a lot of cancer patients are not receiving resource information when they have to come to us. We want to be there for them when they are undergoing treatment," she added.
The resource center in Yakima fits into a tiny corner in the library area on the lower level of North Star Lodge, which is a state-of-the-art cancer treatment center that offers radiation, chemotherapy and cancer therapy.
The resource center does not look imposing. It consists mainly of one volunteer and a computer.
At this time the four volunteers who take turns manning the ACS resource center are pulled directly from North Star Lodge, where two are staff members and two are volunteers. In time, Bowman hopes to train a group of volunteers specifically for ACS and let the lodge employees and volunteers return full-time to their original duties.
"We are looking for volunteers for the resource center, and will provide training for them, but we went ahead with training these four from North Star because we were anxious to get started," said Bowman.
The ACS Resource Center is able to provide information to cancer patients not only about their illness and what to expect, but also what resources are available to them in the community.
"And the resource center can find answers to their questions," said Bowman.
Those questions could run the gamut from "Where can I get a wig?" to 'Will cancer affect my sexual desire?'"
Yes, Bowman said, the same information that her volunteers can provide is available on the American Cancer Society's web site at www.cancer.org, but the volunteers will add a personal touch and on-the-spot support for patients being treated at North Star Lodge and for the families who bring them to the lodge on treatment days.
While this resource center is readily available to patients at North Star Lodge, it is also open to the general public.
Anyone who wants information about cancer is welcome to stop by the lodge, located at 808 N. 39th Avenue in Yakima. A little difficult to locate on a first-ever visit, the lodge is most easily accessed from the Lower Valley by taking the 40th Avenue exit from the freeway and then turning left off North 40th Avenue onto Castlevale, which then immediately intersects with 39th Avenue at which point the lodge is located.
Bowman said the ACS recognizes that this first-ever cancer resource center in the eastern part of the state is just a step toward its larger goal of putting resource centers into the Tri-Cities and other areas where cancer treatment centers are located.
For those unable to visit the resource center, Bowman suggests they use the web site and then, if their questions aren't answered or if more information is needed, call 1-800-ACS-2345. Information is available in both English and Spanish.
Bowman invites anyone who would like to train to be a volunteer at the resource center in Yakima to call her at 1-509-783-1574.