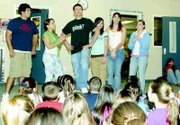 Hoping to teach young students about drama, the advanced drama students at Sunnyside High School have been visiting elementary schools in Sunnyside.
In the third quarter of school, the drama students have been going to different elementary schools every day to teach the younger children about drama. Last Friday was the 50th performance they've done.
"It's fun to see the kid's reaction," Emily Van de Graaf, a Sunnyside High School drama student, said. "We're learning how to interact better with the kids."
The project is something the drama students thought of themselves and they get school credit for it.
Last Friday the Sunnyside High School drama students spent about 30 minutes with the first graders at Pioneer Elementary School. They went over the different proponents to a story, including the plot, dialogue, characters and setting.
The drama students put on a short skit for the first graders and then when they were done, they asked the elementary students questions about the play they just witnessed.
"My students have done a fantastic job performing and teaching the elementary students," Maisy Sylling, the drama teacher at Sunnyside High School, said. "They seem to be having a good time."
They are and so are the elementary students.
"I like to see the kids are having a good time," Heather Cant, a junior drama student at Sunnyside High School, said.
"My kids really enjoy it," Mrs. Riveria, one of the first grade teachers at Pioneer Elementary School, said. "You can see it when they're laughing and paying attention. The high school students did a good job."