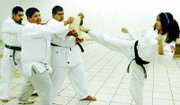 Rocky Gonzalez's students recently competed in two karate tournaments, taking home a number of trophies.
Gonzalez has been studying Tae Kwon Do since 1961. He's an eighth-degree black belt and is the Grand Master of the Northwest Tae Kwon Do Association, housed in Navarro's Family Community Center in Sunnyside.
The students at the school range in age from 3-years-old all the way up to 53. "You're never too old to start," Gonzalez said.
"I've been doing it all my life and the exercises with the kicking and the calisthetics has helped me physically in my life."
And that's what he teaches his students. His students must ask permission to enter the training area and they only call him Sir. The first hour of class, he says, is spent doing lots of physical training.
Gonzalez's students competed in the 14th annual Karate Championships in Walla Walla in late February. In March they competed in Yakima at the 29th Yakima Karate Championships. Twelve students went to the competition.
In the sparring competition at Walla Walla, Jose Gonzalez received a first place trophy. In the kata class Ulises Arenas, A. J. Waterman, Kylie Waterman and Elijah Pena received first place trophies. Kata is like shadow boxing.
In Yakima, Amador Gonzalez took first place in sparring and Jose Suarez placed first in kata.
Students who placed in the top three received trophies and fourth place students received medals.
"They did very well," Gonzalez said.
All his students have been with him for awhile.
"I like it because it's fun and you learn how to defend yourself," said one of his students, Ulises Arenas.