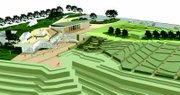 PROSSER - Ground was broken on the Walter Clore Wine and Culinary Center Tuesday morning in Prosser.
The new $9.2 million facility is scheduled to open in May 2007 and will showcase Washington State's viticulture, enology and culinary attributes.
The 17,500 sq. ft. center will house a restaurant, exhibit gallery, a wine bar and cafe with seating for 40, a full-scale commercial kitchen, formal dining room with seating for 50, a theater with seating for 30, a retail shop, classrooms and offices.
The new wine and culinary center will also feature permanent and temporary exhibits on such topics as wine making from vine to bottle and the history of the Washington wine industry and the individuals who shaped it.
"The center will have a significant impact in the area," Debbie Frol, a Clore Center board member, said. "The hospitality industry is growing and services are going to have to follow to make sure private industry can take care of the visitors that are coming. So the opportunities are going to be endless."
Also on site will be gardens devoted to both agriculture and horticulture education, upper and lower level patios, open space for walks, picnics or reflection, and a self-guided interpretive vineyard.
The new center was designed by Boxwood, a Seattle based architectural firm known for its sustainable design and expertise in the wine industry.
"The idea behind the design is to create as much open green space as possible and to create a very energy efficient building so the long term operating costs of the facility wouldn't be a burden to a non-profit organization like this," Joe Chauncey, a designing architect of the building, said.
The building will be 90 percent below ground.
"By putting the bulk of the building under ground where the Earth's temperature is a fairly constant 55 degrees year in and year out means that in the winter time you just have to heat it 10 to 15 degrees and in the summer you don't have to cool it hardly at all," Chauncey said.
Chauncey added the design also gives the area the feeling of a park instead of a center stuck above the ground.
The Walter Clore Wine and Culinary Center is named for the late Dr. Walter Clore, a Washington University horticulturist from 1937-1976. Dr. Clore is widely regarded by industry observers as the father of the Washington wine industry.
All of Washington's wineries will be represented at the center.
"This will be an opportunity for everyone to have their wines represented here," said Patricia Gelles, chair of the Clore Center Board. "For the public coming through, they will be able to learn how grapes are grown and will have the opportunity to taste all these great wines."
The Prosser Economic Development Association developed the vision for the center in 1996. The project started rolling when Gov. Gary Locke recommended establishing a wine and culinary center to promote Washington wines.