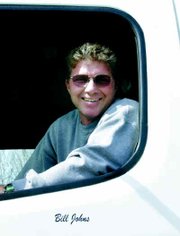 This past Friday Bill John was handed the keys to a new truck that can do some fancy things in the garbage business.
The new roll-off truck purchased by Yakima Waste Systems, Inc. lifts bins that hold 20, 30 or 40 cubic yards of refuse and loads them onto the truck, which then hauls them off to either the landfill or a transfer station near Granger.
Getting the keys to the truck that is replacing a 15-year-old roll-off truck that was converted from a front-loader and had as many as 700,000 miles on it was just the frosting on John's cake.
A single father living in Naches with a 9-year-old son, John's dream had been to have a job with regular hours.
"When you're called to go to work at 3 in the morning, and you have to drop your child off somewhere, it's kind of hard to do," he said. "But I did do it, but it's going to be nice, really nice, to have regular hours," said John, who has worked for Yakima Waste for 20 years, with half that time spent in Sunnyside.
"He paid his dues for so long, and that's how you move up in the company," said Rob Garcia, route supervisor for the trucks that haul refuse throughout Yakima County.
Garcia knows what he's talking about. He and John worked Sunnyside streets together for years, hauling garbage from family residences.
They both worked their way up.
"I started washing containers, then throwing cans (emptying residential-sized cans onto a truck), then driving a front-loader and then the old roll-off truck," said John. Garcia's upward track went about the same way, until he was chosen as route supervisor three years ago.
John's graduation to the roll-off truck-with its 8 to 5 hours-came about four months ago.
To celebrate receiving the keys to the new roll-off truck, John and Garcia brought it around to the Daily Sun office Monday to show it off...and then drove it over to the park where John demonstrated how a container, just filled with refuse from Burger King in Sunnyside, could easily be hoisted on and off the truck.
The roll-off is used for big pick-up jobs, such as at the hospital and grocery stores.
The new roll-off truck has John's name painted on the cab, right below the driver's window.
"The only guy who has his name on one of the trucks,' said Garcia. "Because he is the only one who can drive everything we've got."