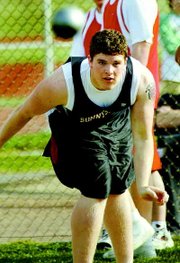 In a Mid-Valley League battle of strength versus strength, it came down to the last event as the Sunnyside girls were edged 77-72 in a dual track meet against Prosser yesterday.
In the boys meet, the host Grizzlies were defeated 90-54 by the Mustangs.
The Sunnyside and Prosser girls were knotted at 72 points apiece heading into the 4x400 relay, the final and decisive event. Prosser edged the Lady Grizzlies by just three-hundreths of a second, 4:47.1 to 4:47.4, to win the relay and the meet.
Prosser dominated in the sprints and jumps, while Sunnyside prevailed in long distance, hurdles and throwing events.
"Our girls are deep in areas where they're not, and they are deep in areas where we're not," observed Coach Robin Bryson. "It seemed like either they got all the points (in an event), or we got all the points."
Sparking Sunnyside were Christy Linde and Claire Schilperoort, who each won three events.
Linde captured first place honors in the 100 hurdles with a school record time of 15.4 seconds. She followed that up with top marks of 33-4 in the triple jump and 50.1 in the 300 hurdles. Melissa Miller was third for Sunnyside in the triple jump with a mark of 26-4.
Schilperoort swept first place honors in all three throwing events, with 107-5 in the discus, 30-8 in the shot put and 104-5 in the javelin.
Her throw in the discus was a personal record. Sunnyside's Maria Ramirez recorded a personal best of 92-8 in the discus, her first time to throw over the 90 feet mark.
In the shot put, Schilperoort led a Sunnyside sweep. Sarah Kilian (30-3), Melissa Miller (29-2) and Carly Dahlstrom (29-0) finished second through fourth in the event.
Claiming second and third places in the javelin for Sunnyside were Brenda Barrios (90-3) and Carly Dahlstrom (88-1).
Yanet Candido ran to first-place finishes in both the 1,600 and 3,200 meters, with times of 5:50.7 and 13:09.5. Brittany Messmore claimed second place in both events, recording marks of 5:53.3 and 13:10.1. Teresa Ramos was third in the 1,600 for Sunnyside with a time of 6:14.1.
In jumping events, Jordyne Jaquish was second in the high jump (4-10) and third in the long jump (14-4).
Teresa Ramos placed first for the Lady Grizzlies in the 800 meters (2:46.8), and Judith Reyes was second in the 400 with a time of 1:25. Taylor Gardner ran a third-place time of 30.6 in the 200.
In the boys meet, Sunnyside's Sterling Scott won two events. He was first in the 1,600 with a time of 5:01 and took the top prize in the 3,200 by running a 11:03.2. Teammate Gracen Gonzalez was second in both events, recording times of 5:04 and 11:08.3. Jacob Rogers was third in the 1,600 for Sunnyside, posting a time of 5:08.
Rogers captured first place honors in the 800 with a time of 2:20. Gilberto Villalobos of Sunnyside (2:21.8) was second in the same event.
Michael Graham recorded a time of 17.3 in the 110 hurdles to take first place for Sunnyside, and threw a second-place mark of 140-4 in the javelin. Blake Coleman (19.3) and Roy Haringa (19.9) of Sunnyside were second and third in the 110 hurdles.
Haringa was also second in the 300 hurdles with a time of 48.1.
Ali Velasco captured first place for Sunnyside in the triple jump with a leap of 35-1, followed by Jaime Sambrano in second with a mark of 34-2.
Sambrano was third in the long jump (17-10), and Jonas Linde was third in the high jump with a leap of 5-0.
The Grizzlies' Casey Smith recorded a personal best of 40-10 in the shot put to take second place, and teammate Jason Aguirre was third in the discus with a throw of 111-8.
"We had a lot of really strong performances," Bryson said in assessing Sunnyside's first team-scoring meet of the season. "Both the boys and girls are working hard, and we're continuing to see progress as the season goes on."
Sunnyside returns to the track this Saturday for the Holder Relays at Eisenhower High School in Yakima.