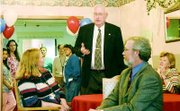 Ask him, and Sen. Jim Honeyford will readily admit that the recently completed legislative session in Olympia isn't one he'll file away as one of his political highlights.
The two-term Republican state senator from Sunnyside, who this week confirmed he'll be seeking a third consecutive four-year stint in the state senate come election time this fall, believes Olympia lawmakers didn't do state residents any favors.
Disgusted, he quickly points to the largest spending increase in state history...via a chart he carries that reflects a 17.4 percent rise in general fund expenditures from the previous biennium. The surge in state spending, he says, will cost every Washington family an additional $2,592 during the 2005-07 biennium to support state government.
Honeyford, currently the Republican Caucus chair, also laments the fact that, despite assurances from the other side of the aisle, a constitutionally-mandated 'Rainy Day Fund' piece of legislation never even came up for a vote. While on the subject of savings, Honeyford intimated that the $935 million set aside as surplus funds this year from the huge windfall in unexpected state revenues is a joke.
"That money is already spent...on programs for next year," he said, adding the state's financial picture becomes even more bleak when factoring in a growing deficit in the state pension fund.
Other disappointments?
To be sure, says the former Sunnyside city councilman, who once worked as teacher, coach and librarian for the Sunnyside School District.
He said he's heard plenty from his constituents on the legislature's failure to protect traditional marriages. The state's citizens and their elected representatives, not the courts, should decide the definition of marriage, he said.
Honeyford, too, is unhappy that despite Republicans' efforts to introduce several property protection measures this year, none were seriously considered. He explained that landowners, both large and small, need protection from the government's abuse of its powers of eminent domain and land grabs without compensation. Honeyford anticipates similar legislation to be reintroduced through a farm bill.
A former policeman for the city of Ellensburg in the early 1960's, Honeyford said lawmakers missed the mark this year on toughening penalties and enforcement for the crimes of auto theft and ID theft, both of which are often committed by methamphetamine users to support their drug habits.
He also is disappointed there were no, in what he described, meaningful regulatory reforms to create a better business climate that would attract more jobs to all communities in the state.
Why all the disappointments for Honeyford and the rest of the Republican caucus?
Simply put, Democrats controlled all of Olympia, with majorities in both the House and Senate, as well as a reigning Democrat in the governor's mansion.
Despite a Democratic agenda that yielded little in the way of non-partisan politics, Honeyford said there were some areas where the GOP made its mark.
He points to last September, when Republicans began pressuring the governor to hold a special session to provide additional home heating assistance to the elderly and low-income citizens. "The Democrats heard us," he said. "The home heating assistance bill was the first one passed in 2006."
Honeyford said it was the Republicans who proposed eliminating the day-use fee at state parks, and although the Democrats adopted the idea as their own, the bill passed this year.
The former state representative, elected to the House in 1994 and 1996 before successfully campaigning for a seat in the State Senate in '98, also notes that Republicans pushed hard this year for sex offender legislation that would meet the level of Jessica's Law. "We didn't get there," Honeyford said, but he explained the GOP did force Democrats to toughen the bills being considered. As a result, he added, sex offenders who molest children and vulnerable adults will now go to prison for 25 years and face tougher post-release registration requirements.
Honeyford said it was Republicans who brought Democrat lawmakers to the table to craft a solution that will reduce Unemployment Insurance taxes for most employers. Likewise, he said it was Republicans who helped broker a solution to a court ruling that would have forced the state's wineries and breweries out of business.
Perhaps the most meaningful thing that came out of this year's legislative session for Honeyford was what he calls a "break-through" on water. In February, he said, water talks were going nowhere. He said Senate and House Republicans, along with one Democrat senator, gathered a core group of water and environmental stakeholders, put them in a room and worked with them until they had crafted the Columbia River Water Supply Development Agreement.
"Thanks to their persistence, we will finally be able to create new and desperately needed water storage in Eastern Washington," Honeyford said.
One of the results of that agreement is $200 million earmarked for the Yakima Basin, to be used for storage and conservation.
"It shows the federal government we're serious about this problem," he said, although he notes he's concerned how the $200 million will be spent.
Honeyford, too, is pleased with Republicans' efforts to help the state's farmers. He said the GOP introduced bills to provide tax exemptions on farm machinery and fuel. And although Democrats later introduced identical bills, thus taking credit for the legislation, they were adopted.
In looking ahead to the rest of 2006, an election year, Honeyford said the amount of time he'll put in on his own campaign will depend greatly on whether he is opposed in this fall's election. A large chunk of his time, he said, will be dedicated to serving on the GOP campaign committee, charged with helping to get Republican lawmakers throughout the state elected to office.
The Sunnyside politician, currently serving on the Senate's Labor, Commerce, Research and Development Committee, as well as the Water, Energy and Environment Committee, said he hopes to regain his seat on the Senate's Ways and Means Committee. He gave up that committee seat last year to a freshman senator who lobbied for the prestigious appointment.