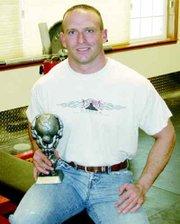 PASCO - Joe Luther is just a regular Joe. During the week, Luther is a 26-year-old lifelong Outlook resident and works for Luther OL Company of Granger as an equipment operator.
But on the weekends, Luther transforms into an incredible weightlifting machine, able to bench press more than 500 pounds.
Luther competes in weightlifting competitions throughout the Northwest and the country.
This past weekend at the Red Lion in Pasco, Luther broke his own Washington state bench press record in the open men's 165-pound weight division competing in a World Association of Benchers and Deadlifters (WABDL) event.
Luther's previous record was 473 pounds, which he set in August 2004.
In the competition, Luther opened with a lift of 451 pounds, "which went very easy," he said.
From there he went for the record. A lift of 474 pounds was next. Obviously not a huge step up from his old record, but enough to establish a new record nonetheless.
With ease, Luther was able to bench the massive amount of weight, which most people wouldn't have a prayer of lifting.
Next came even more weight - 480 pounds, to be exact, and enough weight to set another record.
Would it be a problem for Luther?
Not for a man who has benched more than 500 pounds during his workouts.
"The easiest one was 480," Luther said. "It shot up."
Luther made one more attempt. "I was going to go for 500," he said.
But 492 ended up being the actual number of Luther's final bench press attempt.
A higher rack position and back cramping conspired against Luther in the attempt as it was not to be, but Luther still walked away from the competition with a first-place trophy and two broken state records.
"This is the best I have competed in competition," Luther said.
Luther noted that not many people can actually bench almost three times their own body weight.
"There's very few people in the world who are actually doing it," he said.
But Luther has been lifting for a long time.
"I've been lifting competitively since I was 12, I would say," Luther said. "So I've been at it for about 14 years."
A quick glance at the WABDL's website shows Luther's weightlifting prowess.
He still holds three state bench press records in addition to his open men's division record.
Luther holds two records in the 16 to 19-year-old teen men division. He holds the record for the 148-pound and 165-pound weight classes. Luther benched 365 pounds in 1996 in the 148-pound class, and benched 413 pounds in 1998 in the 165-pound weight class.
Luther also holds the 165-pound record in the 20 to 25-year-old junior men's division. He benched 473 pounds in the division - a mark identical to his previous open men division mark because it counted for both divisions.
So why does he compete in bench press competitions?
"I enjoy it more than anything," Luther said. "Just the thrill of it is addicting."
He also is addicted to the effects weightlifting has on the body, he said. Luther also said he doesn't use drugs or any supplements like Creatine.
Luther said he'll compete in the North American Bench Press Championships in Portland, Ore. in July. If he does well there, he'll have the chance to compete at the World Championships in Las Vegas in December.
"You get so addicted to working out; to seeing the difference in the body," he said.