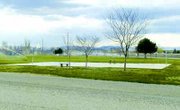 With a June 5 opening in mind, the city of Sunnyside is progressing with plans to build a new skate park at SunnyView Park.
Public Works Director Jim Bridges said he is expecting design concepts to be in hand by April 13.
Bridges said park layout concepts will be presented to the city, which will choose a consultant based on the presentations.
"Then we'll set up a meeting with the skate park users," he said. "They can see the concept and come up with a design they want."
Depending on the final design, Bridges said the park will accommodate between 25 to 50 users at one time.
He said the park will be a multi-use facility, open to skate boarders, roller blading and BMX bikes.
Whatever design is ultimately selected, the city intends to build a park suitable for both beginning and experienced skaters. The chosen design will also be set up to allow for future possible expansion of the park.
Sunnyside will save about a month in construction time, along with between $10,000 to $15,000, by building the skate park on an existing concrete slab at SunnyView Park. Formerly a basketball court, the slab will provide an 86'x56' foundation for the skate park.
Bridges said smaller skate elements at the park will be anchored to the slab, while the larger pieces will stay in place because of their sheer weight. "The larger pieces weigh thousands of pounds," he noted.
Sunnyside will get help in paying the $103,000 price tag for skate park construction with a $51,000 state grant.
The skate park is just one of several parks projects the city will work on this year. In total, Sunnyside has upped its parks spending to $800,000 for 2006, which represents an increase by more than 50 percent over last year.
In addition to the skate park, SunnyView has new, fertilized grass for the softball fields. The fields and all of SunnyView Park is closed through the end of April.
The city may be losing a basketball court in the process of gaining a skate park, but Bridges said there are other options for a game of hoops.
He said the community center is open for basketball. In addition, he noted that all Sunnyside parks have at least one basketball court. Further, Bridges said there are courts available in Grandview.