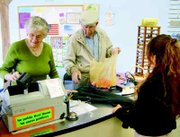 It's one of those success stories that just makes you smile.
Sunnyside Christian Thrift Shop is the little store that could - and did - succeed, in a big way.
Since opening its doors in 1996, this non-profit store has donated more than $415,000 to support local, quality Christian education.
Proceeds help lower tuition costs at Sunnyside Christian School, a Christ-based, non-denominational school with K-12 students from throughout the Lower Yakima Valley.
That cold-cash reality astounds organizers and long-time supporters, who say they didn't fully anticipate the magnitude of God's plans for a modest second-hand shop in downtown Sunnyside.
"When I think about $415,000, it just blows my mind," said Linda Corpron, an initial organizer who later served as the store's first manager and currently is its bookkeeper.
"When we started, I never dreamed it would be as big as it's become. We've been so blessed, and in turn, we are a blessing to the school and community," Corpron added.
Today the non-profit store is evolving from a mom-and-pop style operation into a more professional business. But school families still form the backbone of the Thrift Shop's volunteer work force. They sort, clean and sell the donated goods that fill store shelves.
Floor Manager Diane Plooster and assistants Darlene Burgers and Beth Boone oversee store activities.
"Scripture tells us to be good stewards of our resources, no matter what they are," said Donna Douglas, current SCTS board president. "And the Thrift Shop is a wonderful example of putting those Biblical principles into action."
To commemorate its 10th anniversary, Sunnyside Christian Thrift Shop is planning a year-long celebration beginning with a Spring Showers Sale this Friday, March 31, and continuing with special promotions throughout 2006. There will be drawings on the 10th of each month for free merchandise. Shoppers can register each time they visit the store.
The Thrift Shop, as most of its customers attest, offers a low-cost, quality alternative for shoppers, ranging from low-income farm workers to affluent antique collectors. All store merchandise is donated and includes household goods, clothing, books, home décor and furniture, as well as occasional hardware and farm items.
Shelves are restocked daily with new and gently-used items. Christian music played over a sound system sets the mood for a pleasant, Spirit-led shopping experience.
The store is located at 530 S. Sixth St. Hours of operation are 10 a.m. to 5 p.m. weekdays, 10 a.m. to 3 p.m. Saturdays. Donations are accepted during regular business hours.