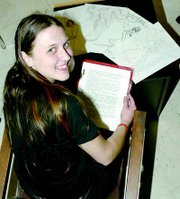 MABTON - When Katie Beeman was a young girl her family received a visit from a young Japanese exchange student. This visit had a lasting effect on her.
Beeman became enamored with the Japanese culture, especially fantasy and Anime.
"If I wasn't into fantasy I would have never written the book," Beeman said. "It's made me want to build my own world with my own characters."
The book Beeman is speaking about is her senior project. The Mabton High School senior chose to write a novel.
"It's supposed to be an occupational project and this will be my occupation," she explained. "I want to be a writer when I grow up. I want to write fiction. I don't like reality so I decided to go a little outside the box."
The book follows four characters who are supernatural bounty hunters. One is a werewolf, another is a vampire, there is what's best described as a shadow and the last character is a fallen angel. They are known as Ravensblade.
Beeman said she picked the name because most of the story takes place at night, hence raven, and the characters are bounty hunters, hence blade.
The story is set in medieval times but in a different world.
"The people live in villages and don't have guns so they fight with swords," Beeman said. "There are large forests that never have been explored with monsters in them."
When Beeman decided to write a novel for her senior project, some people were skeptical. "They would ask me if I thought I could finish it," she remembered. "My English teacher was very excited for me. "She told me it was a good thing and she wanted me to finish it."
Beeman thinks the last piece of advice might have something to do with the fact her teacher has seen her start hundreds of stories and not finish them.
She's been working on the novel since the beginning of the school year and is about three-quarters of the way done. "Its been fun," she said.
Beeman had the four main characters already planned out before she even started the book. They were very well developed. "One of the characters just seems to write himself," she said.
She had a solid idea for the plot before she started writing the book but it's gone on and developed even more. "It's modified itself," she added.
Once the book is finished and the artwork, which is being done by her friend Betsy Fisher, has been picked, Beeman will have the book bound. She then hopes to follow in the footsteps of her favorite authors R. A. Salvator, JK Rowlings and Corneila Funke and have her book published.
Until then, she still has to finish the book. She finds inspiration to write when she listens to a Japanese rock band named Malice Mizer. "They're a gothic band and a little on the dark side," she said. The music helps her think.
No matter what happens with this book, Beeman will have plenty of time to write others. She's off to the University of Washington in the fall to study creative writing and Asian studies. She's also in a tight race to finish at the top of her class. Currently she is in second, 300th of a point behind the top spot.
Beeman is hoping the book, like her high school career, will have a happy ending but warns, "The book sometimes writes itself."