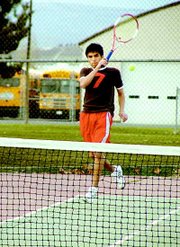 GRANDVIEW - Grandview No. 1 singles player Kevin Floyd got a break from singles play Thursday afternoon against Othello as Grandview Coach Jaime Morales wanted to give Marco Diaz a chance to play against the singles players he'll play at Regionals.
Diaz had no problem disposing of Othello No. 1 singles player Caleb Tovar in straight sets 6-1, 6-1 and led the way for the Greyhounds as the boys team swept Othello 5-0.
The No. 2 singles match was a bit more competitive, but the result was the same - a Grandview victory. Rodrigo Fajardo of Grandview got some stiff competition from Raymond Rodriguez. Fajardo managed a close first-set win 7-5, and played a close second set 6-4 for the straight set victory.
With Diaz in the No. 1 singles slot, Floyd played in the No. 1 doubles position with Zach Poteet.
The pair rolled to a straight-sets victory, dropping just two games 6-1, 6-1.
The No. 2 and No. 3 singles teams posted identical winning scores over their Othello opponents. The teams of Nick Saldana and Robert Madrigal, and Pauilon Fajardo and Lionel DeLeon of Grandview both won by a score of 6-4, 6-2.
Both girls singles matches went well for the Greyhounds, but the doubles matches lost the overall team match for the girls as Grandview dropped all three doubles matches.
Miranda Shreeve gave the 'Hounds a much-needed singles victory, winning 6-3, 6-1 over Shaya Smith of Othello.
In the No. 2 singles match, Cristina Meza of Grandview also won in straight sets, but dropped a few more games en route to the 6-4, 6-2 victory.
No. 1 doubles team Sara Amaro and Kyla Leyendekker stayed competitive in the first set against their Othello opponents, but couldn't stay close in the second set as they fell 6-4, 6-0.
Adriana Valdez and Lily Yoon also stayed close in No. 2 doubles for the 'Hounds, but also lost in straight sets 6-3, 6-3.
Brenda Ramirez and Rosalinda Godinez of Grandview couldn't compete with the No. 3 singles team of Othello as the pair managed to win just one game in a straight-sets 6-1, 6-0 loss.
Grandview now has more than a week off before returning to league action against Toppenish on April 11.