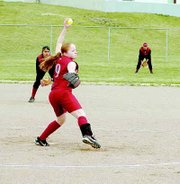 GRANDVIEW - What would have been a tying goal scored by the Greyhounds midway through the second half was disallowed by the referee, and Selah added a second goal minutes later to take a 2-0 non-league victory over Grandview Thursday night.
Selah's first goal, which came from Kyle McCorquovale, found the net in the closing minutes of the first half.
"It's a very difficult time to allow a goal," said Grandview Coach Anne Holden.
The circumstances surrounding the goal were also somewhat questionable, she said.
A Selah player committed a handball, which went uncalled by the referee. The Grandview players stopped playing, expecting the call to be made, but Selah kept playing, as McCorquovale buried the ball in the back of the net.
"That's always tough," said Holden, who added her team will work on several things in practice in the next week, including playing until a whistle is blown and making sure to protect the goal in the final minutes of a half.
The second goal for the Vikings came just minutes after the center referee overruled the linesman on an offside call that would have put the game even at one apiece.
Holden said the linesman's flag stayed down on the goal, but the center referee said a Grandview player was in an offside position.
Crispo Montiel scored shortly there after for the Vikings to all but seal the Selah win.
Holden said her team had several scoring opportunities, but just couldn't put their shots in the net.
"We created lots of chances to score, but we just didn't put them (the shots) on target," she said.
The loss drops Grandview's overall record to 3-4.
The 'Hounds will take most of next week off for Spring Break before returning to practice next Thursday and traveling to Deer Park on April 8.
The Greyhounds won't return to league play until April 11 when they play at Royal City.