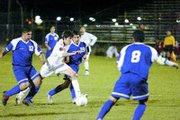 Sunnyside High School's defensive players were mad. After getting beat up by Prosser this past Tuesday, the Grizzly defenders came out strong against the Connell Eagles, shutting them out and enabling Sunnyside to walk away with a 1-0 victory Thursday night.
"Connell is a good team with a solid system," Sunnyside Coach Juan Pineda said. "They were in the game the whole time."
Connell was in the game but the Eagles were kept mostly on their side of the field as Sunnyside kept attacking.
"Our defense made the difference last night," Pineda said. "They did a complete 360 degree turn around. They did what they had to do."
Pineda said the difference in last night's game was the defense. "When they play well our offense can do more things with the ball," he added.
After a 0-0 score in the first half, Sunnyside went ahead for good in the 16th minute of the second half. Silvano Ramos crossed the ball and kicked it from about 20 yards out. The high arcing ball had a lot of spin on it.
Migel Galvan challenged the keeper, which made the Connell keeper come out of the box. Trying to keep his eyes on the ball and Galvan, the keeper got distracted and the ball just dropped and went between his legs. Seconds later the ball went into the net and the Grizzlies led 1-0.
"Galvan's presence forced the mistake by the keeper," Pineda said.
The mistake would be enough as neither team was able to score again.
Sunnyside had 14 shots on goal in the game. Connell managed to get seven shots off at the goal.
Pineda subbed some players in to start the second half with fresh legs. This move allowed the Grizzlies to stay strong in the second half.
"It was one of our strongest second halves so far," Pineda said.
After two early league losses, Pineda isn't worried about his team.
"We're fine," he said. "We lost our games early in the season, which is OK. In the end, we'll be fighting for the top spot in our league."
He said a real test for his team will be tomorrow (Saturday) when Sunnyside travels to Hanford.
"Hanford is a very good team," he said.
Sunnyside (1-2, 4-2) plays Hanford Saturday, April 1, at 10 a.m.
"I expect good things tomorrow," Pineda predicted.