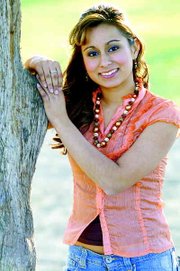 When Vanessa Morfin hears her name announced at next year's graduation ceremony at Sunnyside High School, she will become the first person in her family to have completed high school.
It's because of this Morfin has hopes of being crowned Sunnyside Miss Cinco de Mayo this year.
"I really want to become a role model," she said. "For my sisters and my community."
She says her sisters look up to her a lot and winning the crown and becoming the first person in her family to graduate from high school will hopefully set them on the right path.
Morfin takes only one class at the high school. She is a Running Start student and attends Yakima Valley Community College for three classes a day. She's taking history and English at YVCC. She also interns at Washington Elementary school.
"We help the kids in the Early Childhood Education program," she said.
The 17-year-old junior also plays basketball for the Grizzlies.
If Morfin wins the crown she hopes to form a program for parents who don't speak English. She wants to help them be more involved and active in their children's lives.
"I would like to bring something like that to Sunnyside," she said. "If my parents weren't there for me or involved in my life I would have never been able to succeed like I have."
She said her parents supported her no matter what. "They never told me I couldn't do something even if they knew I wouldn't be able to," she explained.
She said her parents have always supported her and her five siblings.
Morfin is also involved in her church youth group. Her hobbies include spending time with her family, watching Law and Order on TV religiously, "Oh, and shopping of course," she quipped.
After she graduates from Sunnyside High School, Morfin plans on attending Gonzaga University in Spokane.
"I hope to major in child psychology," she said.