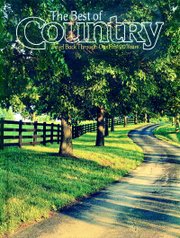 When you can't jump in the car and cruise the countryside from coast to coast, the next best thing may be a read through of a new book, The Best of Country.
The editors of Country, a magazine with 1.1 million subscribers in the U.S., have put together back issues of the magazine and come up with photos and features spanning 20 years.
Gathered under a glossy, hard cover, the reader-written stories make for light, entertaining reading, and the full-color photos evoke a wide range of emotions.
My favorite pages were 16 through 21 that featured the top 10 covers from the past 20 years. Outstanding photography, with an especially creative photo of tulip harvest in Washington's Skagit Valley in which a bundle of bright red tulips and a single yellow one gathered up in the arms of a harvester almost completely hide him (or her?).
As for the stories, "Bartering is one of the joys of country living" held my interest, as one does tend to think of bartering as a lost art. However, the story let us know that a housewife in Oxford, New Jersey, had brought bartering back to life when she traded off some large, brown eggs from her small flock of chickens for vegetables from a neighbor, which she shared with another neighbor, who then gave her some peaches in exchange.
I may have enjoyed that short story because those types of exchanges are common in my Sunnyside neighborhood in the summer when corn, tomatoes, peppers and even tamales are passed around.
There were other provocative story titles in the book, such as "Warm Fuzzy Memories of Ugly, Itchy Long Johns", but I'll leave you to discover them for yourself.
The book is available for $19.99 plus a $4.95 shipping fee ($5.50 for two or more). It can be ordered by calling 1-800-558-1013 or ordering on-line at www.countrystorecatalog.com. When ordering, request Item #35744.
More like this story