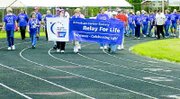 GRANDVIEW - In an event that grows by leaps and bounds each year, cancer survivors will be honored and cash raised to fight a battle with which too many are still dealing.
The two-day Relay for Life will get underway May 20 at the Grandview High School track, where more than 40 teams will set up camp sites to help raise money for the American Cancer Society.
Each day will be filled with music provided by the Prosser radio station, La Maquina/The Source/Tekila, and the Pepsi company will provide free pop all day each day. Entertainment is also being planned.
A complimentary luncheon, provided by Sunnyside Community Hospital, will be held for cancer survivors at noon at a Survivors' Tent on May 20th, the kick-off day.
"Almost 200 cancer survivors have registered, but we don't know how many will show up," said Dawn Fitzgerald, a Prosser woman who is one of four serving on the committee to help make the opening day special for those who have outlasted the disease.
Fitzgerald said she and her fellow committeewomen-Cindy Rattray of Sunnyside and Kathi Durbin and Lynn Blair, both of Prosser-stand ready to take calls from other cancer survivors or anyone who would like to put forward the name of a survivor.
"The more, the merrier," said Fitzgerald, who said the survivors' committee would welcome calls, which can be made to her at her home at 509-786-9658 or to her cell phone at 509-832-2342 or to Rattray at 509-837-7498 or to Durbin, who is a cancer survivor, at 509-786-1314.
"We're trying to gather as many survivors as we can," said Fitzgerald, adding that they will be given a complimentary t-shirt and medallion and will be invited to walk/run the first lap of the relay on May 20.
"If they need wheelchairs, we'll provide them, if we have advance notice," said Fitzgerald.
She said that every cancer survivor who is on the registration list will also receive a personal invitation to the relay and luncheon in their honor.
More than 40 teams have already signed on to run laps May 20 and 21 and raise money for the American Cancer Society. Each team pays $150 for the honor of participating, and each will receive complimentary t-shirts.
"Each team has individual camp sites where they try to make money, too," said Fitzgerald.
In addition to serving on the survivors' committee, Fitzgerald heads up a 10-man team that is selling hanging baskets or cedar pots filled with flowers. The going price is $15 with delivery during the first week of May.
"And at our camp site we'll hold a raffle for WSU football tickets and a portable basketball hoop. We will also have a football toss and a jumping castle," she said.
In discussing relays in the past nine years, Cindy Rattray recalled the first 12 teams and nine corporate partners who worked to bring in $20,768 for the American Cancer Society in 1997, the first year the relay was run in the Lower Valley.
She said year two saw 21 more teams and eight additional corporate partners join the race, which resulted in $59,000. The third year upped the teams to 46 with corporate partners numbering 16. They raised $81,000. In the fourth relay, in 2000, $108,000 was raised by 49 teams and 23 corporate partners.
Rattray, who chaired the relays from 1999 to 2003, said that nationally relays peak at about five to seven years, and that held true for the relays held in Grandview.
The fifth year saw 67 teams working with 30 corporate partners to raise $145,000, the top year so far. There was only a slight decrease in 2002 when 58 teams and 30 partners raised $142,000.
In 2003, year seven, 53 teams and again 30 partners brought in $126,000. The following year, the greatest number of teams turned out, 78, and their efforts and those of 31 partners brought in $95,105. Last year, 63 teams and 23 corporate partners participated. They raised $94,253.
Rattray said relay organizers have not been disappointed with the declining numbers, which still loom large as donations toward a worthy cause.
She recalled the fun that has been raised, along with money, at the relays.
She mentioned the Wannabees from Grandview, "who hold fundraisers all year long for the May relay and set up a big, decorated camp site filled with baked goods they sell at the relay."
Cliff''s Septic Tank Service in Sunnyside has also been a dedicated work horse, "raffling items all year-long and cooking up a storm at the relay where they sell hot dogs, flavored ice, cakes, cookies, popcorn, all kinds of things," according to Rattray.
The Beta Sigma Phi team, a group of elderly women from Prosser, have taken it upon themselves every year of the relays to make and set in place the luminaries that line the track to honor those who have lost their fight with cancer and those who are still fighting the battle.